Fortune Favors The Brave: An Extraordinary Memoir (Hardcover)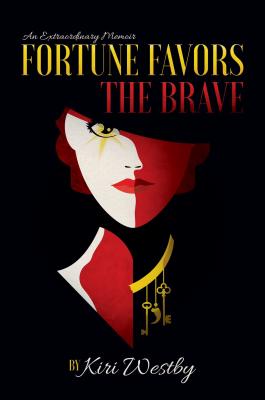 $27.00
On Our Shelves Now. Click on the title to see details.
Description
---
From inside an interrogation session with the Chinese Secret Police, a young American activist recounts her path into global human rights work—exploring critical lessons on privilege and compassion in the context of war and extreme suffering.

When I was arrested by the Chinese military for launching a historic Tibetan Freedom protest, I knew every trial and lesson had been worth it—even if it meant facing a life in prison.

After a childhood infused with esoteric Buddhist teachings, I was forged into a global activist through years of witnessing and collaborating in the dissent of women on the front lines of war. From villages in Nepal, to refugee camps in The Democratic Republic of Congo, to the streets of Bogota, Colombia, my initiation into human rights activism was raw and transformative. The bravery of those women bolstered me in my darkest hours of interrogation and torture by the Chinese Police, and it guides me now to share my true story—no matter the repercussions. This is not a tale the Chinese government wants told.

During my years working in war zones, I often wondered if I'd have the courage to stand up to tyranny, to lay my life on the line to confront undeniable persecution.

In 2007—on the slopes of Mt. Everest—I found out.

Take a literary journey with me as I reveal the bumpy road I took to becoming my bravest self—learning to leverage a life of advantage, find a place for my own joy, and cultivate the courage needed to play a distinct role in history.
About the Author
---
Kiri Westby has spent decades working, writing, activating, and speaking out on human rights in conflict zones around the world. She made headlines in 2007 when she was arrested and forced to disappear by the Chinese government. After ten years of blogging for international media, this is her first book.
Praise For…
---
"Kiri Westby is a walking miracle of a person, and her brave and beautiful book gives a thrilling ride through a life dedicated to freedom and love, hurtling straight in the face of some of the most horrendous situations people have recklessly created for each other on our endangered planet. I couldn't stop reading it, enjoyed every vividly written page, and relished the whole blessed secret world she reveals of totemic action women heroes who never give up. The special delight of it comes from the sense I get that they are certain to prevail, no matter how stubborn seem the pseudo-powerful, blue meany bad guys everywhere! You all should read this book!"
— Robert A.F. Tenzin Thurman, Professor Emeritus, Columbia University, Author, Grandpa, Activist

"In this fierce, heartbreaking, beautiful book, Kiri Westby describes her near-fatal descent into the heart of darkness, and how she came back with compassion and fury. As a boots-on-the-ground activist and born Buddhist, barely out of her teens, she set out to save the world and came to meet a group of extraordinary women who taught her what it means to be brave in the terrible face of violence and fear. I am deeply moved by her bravery and grateful for her wisdom."
— Mark Matousek, Author of "When You're Falling, Dive: Lessons in the Art of Living"