BFF or NRF (Not Really Friends): A Girl's Guide to Happy Friendships (Paperback)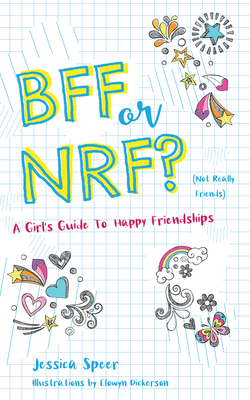 $12.99

On Our Shelves Now. Click on the title to see details.
Description
---
2021 Royal Dragonfly Book Award Silver Medal Winner

Friendships are tough to navigate, even for adults. The preteen years can be particularly sticky, but we've got your back! Packed with fun quizzes, colorful illustrations, and stories about girls just like you, BFF or NRF (Not Really Friends) is the ultimate interactive guidebook to help you learn the ins and outs of friendship. Explore the topics of gossip, bullying, and feeling left out, along with ways to strengthen the friendships that mean the most to you. Author Jessica Speer is an expert on post-pandemic friendships with experience in helping tweens, teens, and young adults navigate their social relationships. 
About the Author
---
Jessica Speer's first middle-grade book, BFF or NRF (Not Really Friends)? A Girl's Guide to Happy Friendships, grew out of her friendship program that helps kids develop social awareness and healthy friendship skills. She has a master's degree in social sciences, and her writing focuses on social/emotional topics for kids and families.  
 
Praise For…
---
"With the recent emphasis on social-emotional learning, this guide discusses friendship in an accessible way." 
—School Library Journal

"Many girls struggle with friendship issues in elementary and middle school. This book provides a clear roadmap for girls to successfully navigate difficult friendships while helping them gain social awareness, skills, and confidence in the process."
—Dr. Cherylee E. Hirsch, PsyD, school psychologist

"As a classroom teacher for the past 12 years, I have supported girls with establishing and figuring out how to foster healthy friendships. BFF or NRF (Not Really Friends) touches on all aspects and themes of positive friendships. I recommend this book for ALL girls."
—Aurora Sidell, teacher


"This is a great guide for empowering young girls on how to navigate friendships in positive, healthy ways!"
—Trudy Ludwig, author of My Secret Bully and The Invisible Boy

"BFF or NRF is definitely the book that I wish I had when I was in elementary and middle school! Now, as a mother of a teen girl, I know from personal experience that navigating the tween years can be tricky. Here is a great solution and guide! Jessica Speer combines colorful illustrations and fun fonts with useful quizzes, checklists, relatable anecdotes, and quotes from girls to make this workbook engaging, useful, and a perfect toolbox for these tumultuous years. I encourage every mom to get a copy and hand it to their tween daughter as soon as humanly possible."
—Cynthia C. Muchnick, MA, co-author of The Parent Compass: Navigating Your Teen's Wellness and Academic Journey in Today's Competitive World

"A wonderfully empowering read! Geared toward younger females, this book is a must-read for those who want to help cultivate an awareness of the powerful nature of TRUE friendships!"
—Dr. Carla Marie Manly, clinical psychologist and author of Date Smart, Joy From Fear, and Aging Joyfully