Unorthodox Love: A Novel (Paperback)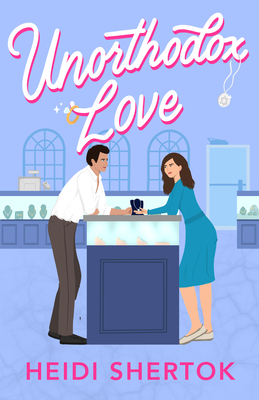 Description
---
Perfect for fans of Ali Hazelwood and Sophie Kinsella, Heidi Shertok's delightful debut about love and family will tug on your heartstrings.

Twenty-nine-year-old Penina longs for true love and marriage, but being infertile in the Orthodox Jewish community means she's rarely matched with the cream of the crop—or even skim milk two weeks past its expiration date. Matchmakers either set her up with men twice her age or those with serious mommy issues. At this point, she might as well wear a sign around her neck that says "professional virgin."

As if things weren't bad enough, her sister Libby then shares a terrible secret: her husband's failed businesses have already put strain on their marriage, and now they might also lose their family home. Penina is desperate to help, so when a secretly gay Orthodox Jew offers a payout in exchange for a fake marriage, it feels like kismet. Who needs true love anyway?

Enter Sam Kleinfeld. Rude, secular, undeniably sexy, and also…Penina's new boss. The last thing he wants is a relationship, especially not with a beautiful, smart-mouthed employee. But soon an attraction builds that they both can't ignore. Will Penina follow her heart and find true love, or will she stick to the traditions she knows best?
About the Author
---
Heidi Shertok is an Orthodox Jewish woman, wife to a stud muffin engineer, and mother of three. When she isn't writing, she can be found walking her eight pound attack dog, admiring other people's gardens, or hiking in high heels.
Praise For…
---
Praise for Unorthodox Love:
"Shertok's debut delivers both sparkling banter and realistic relationship hurdles . . . Lovingly rendered . . . This tale of interfaith love is sure to please."
—Publishers Weekly

"[A] feel-good love story."
—Kirkus Reviews

"Shertok deftly informs readers about Penina's faith as part of the plot in this chaste, opposites-attract romantic comedy."
—Library Journal

"Unorthodox Love is a page-turning romance with delightful characters, hilarious banter, and finding love in the most unorthodox ways."
—Abby Jimenez, New York Times bestselling author of Yours Truly

"Subversive, hilarious, and heartfelt . . . Unorthodox Love reminds us all that the things which set us apart, make us the worthiest of being loved." 
—Jean Meltzer, international bestselling author of The Matzah Ball

"Unorthodox Love is everything I love in a good rom-com: sizzling chemistry, electric banter, and scenes that made me laugh out loud. Heidi Shertok's heartwarming enemies-to-lovers romance will keep you turning pages right to the perfect end."
—Cara Lockwood, USA Today bestselling author of I Do (But I Don't)

"Penina had my whole entire heart. Winsome, hilarious, and impossible not to root for. I loved following this Ortho Jewish QUEEN to find her one-and-only."
—Goldy Moldavsky, New York Times bestselling author of The Mary Shelley Club

"Delightfully Jewish, laugh-out-loud funny, and full of snappy dialogue, Unorthodox Love was an absolute joy from beginning to end! Penina is a character to root for—endearing, kind, and worthy of the happily-ever-after she ultimately gets. Sam is as delicious as he is grumpy and the two of them together are simply magic. I devoured this book!" 
—Meredith Schorr, author of As Seen on TV and Someone Just Like You.

"Romcom fans will lose their minds over Unorthodox Love, a hilarious debut from author Heidi Shertok, whose quirky and lovable characters are remarkably relatable, even for readers who might not know a mitsvah from a matzoh ball. I fell in love with Penina and Sam as they stumbled and tumbled (in Penina's case, while wearing seriously great shoes) to their happily ever after. And believe me, there's no burn like the slow burn of two people who aren't allowed to touch each other . . . whew! It was an absolutely perfect ending except for the part where it, you know, ended. I can hardly wait for the next book by Heidi Shertok!" 
 —Carly Bloom, author of Big Bad Cowboy

"I adored Penina, her story and the journey she takes through the pages of Unorthodox Love. Heidi Shertok has penned a beautiful tale of learning how to reach for exactly what you want, even if it sometimes seems impossible. Even as you're falling in love."
—Stacey Agdern, author of B'Nai Mitzvah Mistake