What You Never Knew: A Novel (Paperback)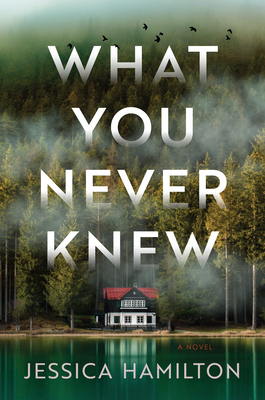 $18.99

NOT on our shelves - Usually Ships in 1-5 Days
Description
---
Told in alternating points of view between the living and the dead, Jessica Hamilton's debut novel will be perfect for fans of The Lovely Bones.

Idyllic Avril lsland, owned by the Bennett family, where their hundred-year-old cottage sat nestled in acres of forest. Forty-year-old June Bennett believed that the island had been sold after the summer of her father's disappearance when she was only twelve years old. It's months after the shocking death of her older sister May in a fatal car accident, that June finds out that the cottage was never sold. Avril Island is still owned by the Bennett family and now it's hers.

Still reeling from the grief of losing her sister, June travels back to Avril lsland in search of answers. As she digs, she learns that the townspeople believe her father may in fact have been murdered rather than having abandoned his family in the dead of night, as she was led to believe by her mother. And that's when she begins to notice strange things happening on the island--missing family possessions showing up, doors locking on their own, unexplained noises in the night, shadowy figures disappearing into the woods. It takes June no time at all to realize that her childhood summers at Avril Island were not at all what they had seemed to be.
About the Author
---
Jessica Hamilton was born in Australia but grew up in Ontario, Canada. She has lived and worked in the Czech Republic, Taiwan, India and Japan. She studied writing at the Humber School for Writers as well as George Brown College. She lives in Orillia, Ontario with her husband, son and daughter. What You Never Knew is her first novel.
Praise For…
---
Praise for What You Never Knew:
"Light and easy writing brightens the characters' traumas in this debut novel."
—Kirkus Reviews

"With an emphasis on place and characters, the debut is a[n]...atmospheric novel."
—Library Journal

"Showcases[s] how far we'll go for the ones we love."
—Portland Book Review, 5-star review

"One of those rare finds that keeps you up for days... You won't put it down."
—New York Journal of Books

"A solid thriller with twists and turns you don't see coming...You won't want to put the book down."
—Red Carpet Crash

"What You Never Knew is an emotional, atmospheric, cleverly plotted mystery about loss, grief, and the secrets families bury. Jessica Hamilton has created two intriguing characters: one dead; one alive, and nails both unique voices as they take a spellbinding journey toward the truth. Creepy and vivid, with slow-burn reveals that keep the reader glued to the pages, this debut grabs hold on page one and doesn't let go until the last beautiful line."
—Samantha M. Bailey, USA Today bestselling author of Woman on the Edge 

"To what lengths would you go to protect your family, and what can you do if you're no longer around? Jessica Hamilton's eerie and compulsive What You Never Knew explores sisterhood, love, loss, deep dark secrets, and whether it's possible to ever truly escape your past—or who you are. Atmospheric, intriguing and downright creepy at times, this debut had me riveted right from the start. Well plotted and with beautifully drawn characters, this is an excellent read!" 
—Hannah Mary McKinnon, bestselling author of Sister Dear

"Pack Jessica Hamilton's new novel with you on a trip to the cottage! A delicious summer read, the book is a visually provocative, intimately drawn page-turner that offers intertwined family relationships that continue even after death. Be prepared to second-guess every wind-blown door slam after this terrific debut!"
—Laurie Petrou, award-winning author of Sister of Mine

"Jessica Hamilton brings the spooky thrills in her debut, an involving spin on the gothic cabin-in-the-woods mystery. What You Never Knew definitely puts good use to its inventive—and chilling—point of view: a story told partly by the living, partly by the dead."
—Andrew Pyper, author of The Residence and The Demonologist