Bible Stories for Kids: 40 Essential Stories to Grow in God's Love (Hardcover)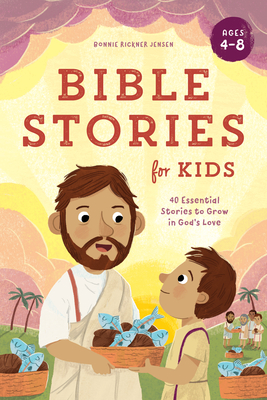 Description
---
God's love shines through these richly illustrated Bible stories for ages 4 to 8
Discover some of the Bible's most beautiful stories! This colorfully illustrated book of Bible stories for children ages 4 to 8 draws from the Old and New Testaments. Kids will learn how God's great love shines for the people in the Bible and how it can show up in their lives, too. The vibrant pictures alongside each children's Bible story fit both Biblical and historical contexts.
Stories of God's love—Find familiar stories, like Daniel's faith inside the lion's den and Jesus's walk on the water, along with lesser-known ones, like Ruth and Naomi's friendship or Deborah's bravery in battle.
Ideas to talk about—Discussion questions alongside these kids' Bible stories will inspire them to think, talk, and pray about their feelings and experiences.
A Biblical companion—The Scripture passage for every story invites children to find out more about God's Word.
Remind kids that God is here to love and support them every day with this book of children's Bible stories!
About the Author
---
BONNIE RICKNER JENSEN loves to write for children and believes every child holds a unique purpose. She's a best-selling author who surrounds herself with picture books, the people she loves, and trinkets from her travels.
Praise For…
---
"Bible stories can be complicated for little ones to understand, but this book does a great job of simplifying the stories without losing their effectiveness! Thought-provoking questions and prayers at the end of each story help children deepen their understanding!" —Leah Merrill, stay-at-home mom of four

"In a perfect partnership of words and art, Bible Stories for Kids is the book you will want in your children's hands! Bible stories are distilled down to their most meaningful points so children will understand God's Word without tripping over long passages. The glossary is brilliant and helpful for independent readers. The book is beautiful and beautifully written." —Marilyn Jansen, editor and author of Come Sit a Spell: An Invitation to Reflect on Faith, Food, and Family