The World of Coral Reefs: Explore and Protect the Natural Wonders of the Sea (Hardcover)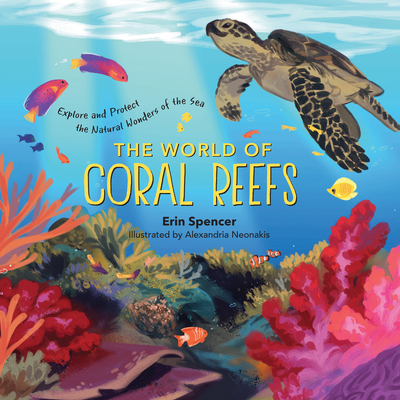 $16.95

NOT on our shelves - Usually Ships in 1-5 Days
Description
---
Coral reefs occupy less than 1% of the ocean floor, but they support 25% of all marine species with food and shelter. In this lavishly illustrated book for ages 7 to 10, marine ecologist and underwater explorer Erin Spencer provides fascinating, scientific information in a highly accessible format, including details about the types of coral, their anatomy and life cycle, where they live, how reefs develop, and the incredible diversity of marine animals that live among them, including aquarium favorites like clownfish, royal blue tangs, and sea turtles. Kids learn about the interdependent relationships of people and reefs and how human behavior puts reefs in danger, promising conservation work that scientists are undertaking, and solution-oriented ways kids and families can help in the effort. 
 
About the Author
---
Erin Spencer is the author of The Incredible Octopus​ and The World of Coral Reefs. She is a marine ecologist and National Geographic Explorer whose articles, photos, and videos of marine life have been featured in National Geographic, PBS, CBS Sunday Morning, and in publications of Ocean Conservancy. She is an avid public speaker and has presented to National Geographic, the World Bank, MCON, and TEDx, as well as many school groups. Originally from Maryland, she now lives in South Florida where she studies great hammerhead sharks and their prey for her PhD. 
Alexandria Neonakis is a freelance concept artist and illustrator from Nova Scotia, Canada, currently residing in Los Angeles. Through her agents at Bright, she's worked with publishers such as Simon & Schuster, Random House, Macmillan, Scholastic, and Inhabit Media. When she's not working, you'll find her at home with her husband John and their way too many pets, out in nature painting and shooting reference, or at the barn she rides at hanging out with horses.
Praise For…
---
"The World of Coral Reefs is the perfect introduction to the "rainforests of the sea" and their wonderful creatures. This is the book I wish I had when I was a kid becoming interested in marine life." - Enric Sala, Explorer in Residence, National Geographic Society and Executive Director and Founder of Pristine Seas

"An exciting guide for the next generation of ocean explorers, balancing the awe and wonder of the coral reef ecosystem with easy-to-understand science and facts that explore their importance and the immense threats they're currently facing."  - Joe Grabowski, Director and Founder of Exploring by the Seat of Your Pants and National Geographic Explorer