The Unpunished Vice: A Life of Reading (Hardcover)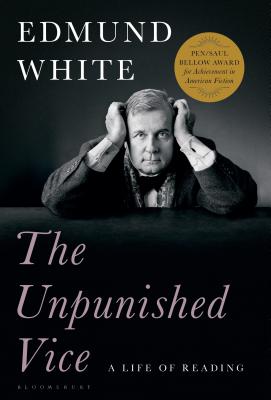 $28.00

If not in stock, we can Special Order from the publisher
Description
---
A new memoir from acclaimed author Edmund White about his life as a reader.
Literary icon Edmund White made his name through his writing but remembers his life through the books he has read. For White, each momentous occasion came with a book to match: Proust's Remembrance of Things Past, which opened up the seemingly closed world of homosexuality while he was at boarding school in Michigan; the Ezra Pound poems adored by a lover he followed to New York; the biography of Stephen Crane that inspired one of White's novels. But it wasn't until heart surgery in 2014, when he temporarily lost his desire to read, that White realized the key role that reading played in his life: forming his tastes, shaping his memories, and amusing him through the best and worst life had to offer.
Blending memoir and literary criticism, The Unpunished Vice is a compendium of all the ways reading has shaped White's life and work. His larger-than-life presence on the literary scene lends itself to fascinating, intimate insights into the lives of some of the world's best-loved cultural figures. With characteristic wit and candor, he recalls reading Henry James to Peggy Guggenheim in her private gondola in Venice and phone calls at eight o'clock in the morning to Vladimir Nabokov--who once said that White was his favorite American writer.
Featuring writing that has appeared in the New York Review of Books and the Paris Review, among others, The Unpunished Vice is a wickedly smart and insightful account of a life in literature.
About the Author
---
Edmund White (b. Ohio, USA, 1940) is the author of many critically acclaimed books, the most recent being The Flaneur. He was made an officer in the French Ordre des Arts et des Lettres and won a literary prize from the Festival of Deauville. He now teaches at Princeton University. His acclaimed autobiography, My Lives, was published by Bloomsbury in 2006, while his play, Terre Haute, was published by Methuen Drama in 2007.
Praise For…
---
"The Unpunished Vice pulls together [White's] lived life and his reading life; what he cares about is giving the readers a sense of some of the authors he has enjoyed the most, and from whom he has learned the most . . . [For White] reading was a transgression against the norm, to be pursued in private, to be enjoyed for the pleasure of the story and the guilt of reading it." - Jane Smiley, New York Times Book Review
"White's reflections are just as lucid as they are fascinating and just as compelling as they are bountiful. A literary delicacy with more takeaways than one can count." - Starred review, Kirkus
"In this mélange of essay and memoir, author White (Our Young Man) reflects on the books and people that helped shape his remarkable literary life . . . In a conversational tone that blends affirmation and elegy, White escorts readers through an impressive range of interests and experiences . . . this collection is like a heartfelt conversation with friends over a bottle of wine." - Publishers Weekly
"A generous, lovely book about the profound effect of reading on a versatile and influential writer." - Booklist
"The delightful thing about [The Unpunished Vice] is the way White's personal adventures and omnivorous reading habits intersect." - Chicago Tribune
"In this blend of memoir and literary criticism, author White writes about his lifelong love of reading. In the book's postface, he relates being chastised as a young child for not yet having learned to read, a skill he equated with freedom. Using his life and experiences, the author creates a literary memoir about this "lonely and intensely sociable act." His tastes are eclectic and wide ranging; he argues that Leo Tolstoy's Anna Karenina is "the greatest novel in all literature," placing this and other works within the context of his own life and the time and place in which the book was published. VERDICT: A lovely and thoughtful memoir about reading, books, and life." - Starred review, Library Journal
"[White's] work is as varied as it is unmistakably his. And it is, undoubtedly, masterful . . . White is above all else a writer's writer: one of the great prose stylists of our time." - Tim Smith-Laing, Daily Telegraph
"White is a charming and sharp-witted raconteur worth spending time with on the page. The Unpunished Vice is a welcome capstone to the venerable literary career of a writer who has never been afraid to expose his own and others' fallibility." - BookPage
"White is the preeminent gay man of letters of our time." - Bay Area Reporter
"You likely don't think reading is sexy or transgressive. But you will after dipping into The Unpunished Vice by Edmund White. The word iconic is an overused cliche. Yet, there's no other way to describe White, 78, our most eminent queer writer." - Washington Blade
"Edmund White is one of the best writers of my generation; he's certainly the contemporary American writer I reread more than any other, and the one whose next book I look forward to reading most" - John Irving
"Edmund White tells such a good story that I'm ready to to listen to anything he wants to talk about" - New York Times on THE FLANEUR
"White's prose is as fresh as a series of slaps to the face." - The New York Times Book Review on OUR YOUNG MAN
"White has proven himself again and again to be one of the finest storytellers of his generation . . . Sleek, witty, a bit raunchy, and fully enticing and entertaining." - New York Journal of Books on OUR YOUNG MAN
"He never descends to savage satire. This open-heartedness, an essential White quality, makes his writing sparkle with generosity … Every detail is alive and gleaming … It is also a book that floats above things, so light is its touch, so playful and joyous its execution … It is shameful, though, that we haven't managed to free White from the initially groundbreaking but now enfettering label of "gay novelist". It has blinded us to the essential allusiveness, wit and sprezzatura of his work, its conversations with other books, its effortless ability to say profound things in unsententious and gossamer-light ways" - Guardian on OUR YOUNG MAN
"It's hard not to think of Edmund white as the dean of gay American writing…White is also a passionate reader…it is this 'unpunished vice' of his life of reading that gives White the title and the theme for his latest opus, an intelligent and often delicious meditation on the books he has read, and some that he has written. The Unpunished Vice is a smart, genial, and always interesting account of his literary life…a delight on every page." - Philip Gambone, Gay and Lesbian Review
"Anyone at a loss about what to read next can earn double points by picking up the newest book by Edmund White: The Unpunished Vice . . . Whether talking about his own writing, writers he has known, gossipy biographical tidbits, the allure of libraries, "the greatest novel in all literature" or the books he rereads regularly, White generously shares opinions he's developed over a lifetime and also gives us a plenty of ideas for our own to-read lists." - Fatima Farheen Mirza, Minneapolis Star Tribune