Cross Examined: Putting Christianity on Trial (Hardcover)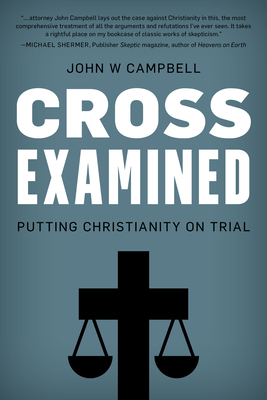 $39.95

On Our Shelves Now. Click on the title to see details.
Description
---
Christianity is more than just a religion. It is a social organism that affects the lives of every person on earth in significant ways, even if they are not Christians themselves. In the United States its influence is pervasive with often profound influence on public policies, but it is largely unchallenged as a belief system, relegated to that quarantined area outside the zone of polite conversation. Despite much academic ink being allotted to the weaknesses of Christianity as a valid belief system, the general public remains unaware of these flaws. In Cross Examined, John Campbell applies his almost thirty years of experience as a trial lawyer to dissecting Christianity and the case of apologists for the Christian God. He addresses the best arguments for Christianity, those against it, and the reasons people should care about these questions. His purpose is to fill a void in books on atheism and Christianity by systematically taking Christian claims to task and making a full-throated argument for atheism from the perspective of a trial lawyer making a case.
About the Author
---
John Campbell has been a trial lawyer for over twenty-five years, successfully handling cases all over the country. He graduated from the College of William and Mary in Virginia and from the University of Arkansas law school with high honors. Campbell was raised in a religious family but lost his faith in college, ironically in the process of trying to strengthen it. Since that time, he has had a profound interest in religion and Christianity in particular.