Decisive Intuition: Use Your Gut Instincts to Make Smart Business Decisions (Paperback)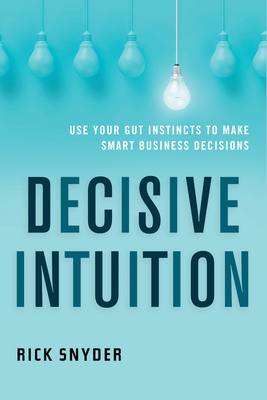 $17.95
Usually Ships in 1-5 Days
Description
---
At last a practical guide on intuitive decision-making for anyone in the business world to get to the answer they need faster.
Intuition is the great differentiator in business. Listening to, trusting, and acting on your intuitive intelligence separates you from the pack as most people are not listening to theirs. Intuition is the one intangible skill that enables teams to function at a higher level and add more dimension and power to their ability to solve problems and grow. Yet the question that each business leader and manager struggles to answer is how do you train and develop intuitive thinking in a team to achieve the greatest result?
Decisive Intuition is for business leaders, managers, and employees who want answers to this question and are ready to accelerate their company culture.

Practice this 6-step process for harnessing your intuitive intelligence with practical business applications.
Hear how successful business leaders are integrating intuitive skills into their companies for cutting-edge results.
Explore directional, social, and informational intuition and how you can apply them to different areas of your business for greater results.
Learn about the 5 roadblocks to accessing your intuitive intelligence and how to overcome them.
Discover the latest findings in neuroscience and techniques to access your intuitive, subconscious mind for arriving at better decisions, faster.
About the Author
---
Rick Snyder is the CEO of Invisible Edge™, an international consulting company that serves as trusted advisors, mentors, and strategic partners for forward-thinking executives and companies. Snyder combines his MA in psychology with his business experience to advance intuitive intelligence and skills into his clients' business plans and company culture. His breakthrough strategies have been implemented by executives and businesses in Europe, Africa, Asia, and the Americas, and he brings a global perspective to his teachings. Snyder currently resides in Monte Sereno, California. For more information visit www.invisible-edgellc.com.
Praise For…
---
"Snyder shows you not only why building intuitive skills for your leaders and teams are critical for innovation and success, he actually shows you how to do it. This practical and inspiring book will transform your company culture and keep you a step ahead of the marketplace." —Marshall Goldsmith, New York Times #1 bestselling author, Triggers
— Marshall Goldsmith
"The war cry of business, 'maximize short-term profits,' is based on non-intuitive, quantifiable data and is contrary to hundreds of thousands of years of human experience. It has driven us to the brink of environmental disaster—and social irresponsibility. Snyder does a masterful job in showing us how to develop and utilize our intuition for greater creativity, innovation, and a form of leadership that can guide us back from that brink." —John Perkins, Economist, bestselling author, Confessions of an Economic Hitman
— John Perkins
"If you are looking for a fresh new approach that will help your company set a powerful direction and make a wiser decision that your people can get behind, and create a more alive and engaging place to work, look no further. Decisive Intuition is the blueprint for the empowered and innovative culture you've been waiting for." —Dr. John Demartini, International bestselling author, The Values Factor
— Dr. John Demartini
"Insightful, daring decisions drive not only a successful business but a fulfilling life. Snyder does a masterful job in showing precisely how to develop and use intuition for greater creativity, better choices and more empowered leadership. In the process he puts intuition smack in the center of the map, where it should have been all along." —Brian Collins, CEO of COLLINS
— Brian Collins
"I know first-hand the value of listening to my gut, as this has guided the most key business decisions in my life. Snyder shows you how to unlock your genius and translate your intuition into action. A must-read for true entrepreneurs and leaders." --Nolan Bushnell, Founder of Atari, Chuck E. Cheese, and several trend-setting businesses
— Nolan Bushnell
"This is a wonderful book that shows you how to connect with your inner voice, that wisdom that will bring you the answers to all your questions." —Brian Tracy, Speaker, Trainer, bestselling author of Eat That Frog
— Brian Tracy