Simple Gimpl: The Definitive Bilingual Edition (Hardcover)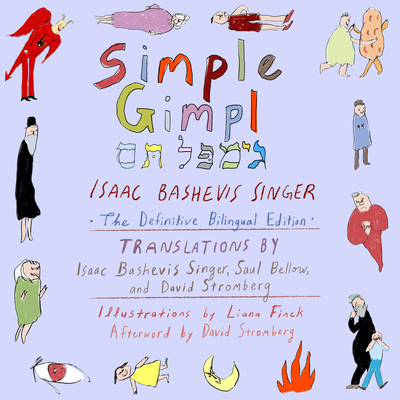 $22.00

NOT on our shelves - Usually Ships in 1-5 Days
Description
---
A gorgeously produced, bilingual edition of Nobel Prize laureate Isaac Bashevis Singer's canonical story--one of the most influential of the 20th century--about a hapless yet charmingly resilient baker named Gimpl, who resists taking revenge on the town that makes him the butt of every joke. Singer's original Yiddish appears alongside his own partial translation, now completed and edited by writer and scholar David Stromberg, and the 1953 translation by fellow Nobel laureate Saul Bellow. With illustrations by Liana Finck and an afterword by David Stromberg.
Isaac Bashevis Singer's "Gimpl tam" was published on March 30, 1945, in the obscure Yiddish-language journal Idisher kempfer, about a month before the Nazi surrender. A story of bullying and the potential for revenge, it tells the deathbed confession of an orphaned baker who is targeted by his own community for ridicule and practical jokes. Gimpl has come to be seen as a symbol of the Jewish people in the diaspora, and, by synecdoche, minorities in general. Should they be passive in the face of aggression? Or should they defend themselves? What role must the individual of that minority play when the pack behaves badly?
When Irving Howe and Eliezer Greenberg opted to include "Gimpl tam" in their Treasury of Yiddish Tales, Howe asked Saul Bellow to help with the translation. It was finished in a single sitting and published in 1953 in The Partisan Review as "Gimpel the Fool"--the version that has since been canonized as one of the fundamental stories of the twentieth century. Yet, unlike every other major work of Singer's published in his lifetime, the author had no involvement in the English translation. In 2006, Joseph Landis, editor of Yiddish, published a draft play script titled "Simple Gimpl," made by Singer directly from the Yiddish original--the closest extant rendition of the story in the author's own translation. Literary scholar David Stromberg has completed Singer's translation, allowing readers to see another dimension of the original. This definitive edition, a treat for literature lovers, features Singer's story in Yiddish along with the two English versions. Having them together shows Gimpl as anything but a fool--but rather someone accepting the complexity of his life and faith.