Search for Books
ABA Mobile Menu
The Liars of Mariposa Island (Hardcover)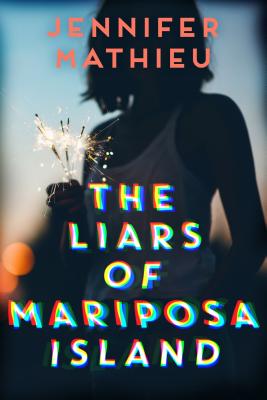 Staff Reviews
---
This is a beautiful novel about secrecy and family. Told through the points of view of siblings Elena and Joaquin and flashbacks in the point of view of their mother, The Liars of Mariposa Island is a great, multi-dimensional look at the lies that people tell others and themselves to make life more bearable and the consequences of those lies.
— Hannah Cochran
Description
---
From the author of Moxie comes a stunning novel told in three voices about the lies families tell to survive.
Every year, summer begins when the Callahans arrive on Mariposa Island. That's when Elena Finney gets to escape her unstable, controlling mother by babysitting for their two children. And the summer of 1986 promises to be extra special when she meets J.C., the new boy in town, whose kisses make Elena feel like she's been transported to a new world.
Joaquin Finney can't imagine why anyone would want to come to Mariposa Island. He just graduated from high school and dreams about going to California to find his father and escape his mother's manipulation.
The Liars of Mariposa Island follows siblings Elena and Joaquin, with flashbacks to their mother's experience as a teenage refugee fleeing the Cuban revolution.
Jennifer Mathieu's multilayered novel explores the nature of secrets, lies, and fierce, destructive love.
About the Author
---
Jennifer Mathieu is the author of Devoted, Afterward, and The Truth About Alice, the winner of the Children's Choice Teen Debut Author Award. Her 2017 novel Moxie is being developed into a film directed by Amy Poehler for Netflix. Jennifer teaches high school English in Texas, where she lives in the Houston area wiht her husband and son.
Praise For…
---
"In The Liars of Mariposa Island, lies and truth swirl together in a dangerous undercurrent. Across two countries and three generations, Jennifer Mathieu masterfully explores how families break, how siblings survive, and all of the ways that love can hold us back and let us go." —Robin Benway, National Book Award–winning and New York Times–bestselling author of Far from the Tree and Emmy & Oliver
"The Liars of Mariposa Island, with its richly layered exploration of the complicated love and lies that attend familial bonds, reasserts Jennifer Mathieu's standing as one of young adult fiction's most skilled storytellers." —Jeff Zentner, Morris Award–winning author of The Serpent King and Goodbye Days
"In this tenderly told novel with a rich sense of place and time, Jennifer Mathieu unravels one immigrant family's secrets. Thanks to shifting narrative voices, readers grow in compassion for all three characters, flaws and all, and her masterful storytelling invites us to do the same." —Mitali Perkins, author of You Bring the Distant Near

"Mathieu masterfully invests readers in the characters' origin stories, emotions, and motives. Her descriptions of the various settings over time and space are vivid and pulsating, immersing the audience in the psyches and nostalgia of each narrator." - Booklist, starred review
"Mathieu empathetically delves into thorny questions of identity, trauma, abuse, choices, family bonds, and the lengths people will go to keep a measure of control in their lives. With a touch of romance, this gentle, multilayered novel comes with a dash of the unexpected thanks to the deeply unreliable nature of its narrators." - Kirkus

"An emotional, sensitive, and heartbreaking story about one dysfunctional family's survival and unhappiness... Quietly powerful." - School Library Journal

"These stories intertwine and reflect one another with luminous intensity; Mathieu makes Caridad's story as compelling and thorny as that of her children without sacrificing their centrality or letting her off the hook." - The Bulletin of the Center for Children's Books