Aging Well: Solutions to the Most Pressing Global Challenges of Aging (Paperback)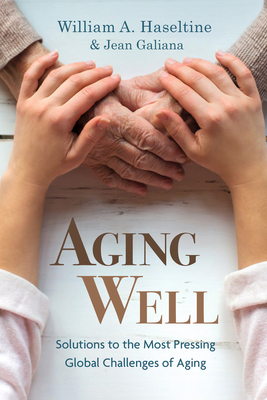 $17.95
On Our Shelves Now. Click on the title to see details.
Description
---
A Comprehensive Review of Innovative Solutions to Address Global Aging Challenges

Meeting the healthcare and social needs of the older population is a personal challenge for millions of Americans and billions more worldwide. It is also a growing global public health challenge. Aging Well is a comprehensive study on how to support the health and well-being of older adults. This book is a must-read for every person caring for aging relatives or loved ones with disabilities.

For those who read and enjoyed Atul Gawande's Being Mortal, this book is the perfect accompaniment. Aging Well provides intimate glimpses into the real-life challenges facing older adults today such as loneliness, community connection, aging in place, and the need for emergency care in the hospital and the home. Aging Well also offers caregivers, policymakers, and healthcare leaders insights into sustainable models of excellence that can reduce health spending while improving the health, well-being, and quality of life for older adults.
About the Author
---
William A. Haseltine is the Chair and President of ACCESS Health International, a nonprofit organization that works to ensure that all people, no matter their age or where they live, have access to high quality affordable healthcare. He has an active career in science, business, and philanthropy. He is known for his pioneering work on cancer, HIV/AIDS, and genomics. Dr. Haseltine was a professor at Harvard Medical School and Harvard School of Public Health and founder of its Division of Biochemical Pharmacology and Division of Human Retrovirology. He has founded twelve biotechnology companies, including Human Genome Sciences, Inc. Eight pharmaceutical products from companies he founded are currently approved by US and international regulatory agencies. In her role at ACCESS Health International, Jean Galiana successfully promoted key messages about elder care and optimal aging to engage policy makers, healthcare providers, the general public, and stakeholders. She managed qualitative research projects to discover, document, and advocate for best practices in aging in the United States. Currently Jean works in communications and survey research for Vital Research in Los Angeles, CA. She obtained her undergraduate degree in business from Lehman College and holds a master's degree in aging services management from the University of Southern California Leonard Davis School of Gerontology.