Porno Chic and the Sex Wars: American Sexual Representation in the 1970s (Paperback)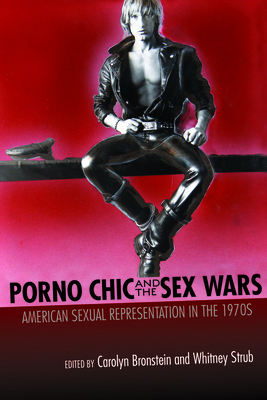 $39.62

If not in stock, we can Special Order from the publisher
Description
---
For many Americans, the emergence of a "porno chic" culture provided an opportunity to embrace the sexual revolution by attending a film like Deep Throat (1972) or leafing through an erotic magazine like Penthouse. By the 1980s, this pornographic moment was beaten back by the rise of Reagan-era political conservatism and feminist anti-pornography sentiment.

This volume places pornography at the heart of the 1970s American experience, exploring lesser-known forms of pornography from the decade, such as a new, vibrant gay porn genre; transsexual/female impersonator magazines; and pornography for new users, including women and conservative Christians. The collection also explores the rise of a culture of porn film auteurs and stars as well as the transition from film to video. As the corpus of adult ephemera of the 1970s disintegrates, much of it never to be professionally restored and archived, these essays seek to document what pornography meant to its producers and consumers at a pivotal moment.

In addition to the volume editors, contributors include Peter Alilunas, Gillian Frank, Elizabeth Fraterrigo, Lucas Hilderbrand, Nancy Semin Lingo, Laura Helen Marks, Nicholas Matte, Jennifer Christine Nash, Joe Rubin, Alex Warner, Leigh Ann Wheeler, and Greg Youmans.
About the Author
---
Carolyn Bronstein is professor of media studies at DePaul University and author of Battling Pornography: The American Feminist Anti-Pornography Movement, 1976–1986. Whitney Strub is associate professor of history and director of Women's and Gender Studies at Rutgers University–Newark and author of, most recently, Obscenity Rules: Roth v. United States and the Long Struggle over Sexual Expression.
Praise For…
---
"This much-needed collection takes films, publications, and people that have previously existed on the periphery of porn history and places them front and center with essays that are rigorously researched and well written."—Lynn Comella, coeditor of New Views on Pornography: Sexuality, Politics, and the Law

"Bronstein and Strub's collection provides both breadth across a wide span of cultural issues and in-depth discussions of the specific factors that made 1970s porn unique."—Journal of the History of Sexuality