My Marathon: Reflections on a Gold Medal Life (Hardcover)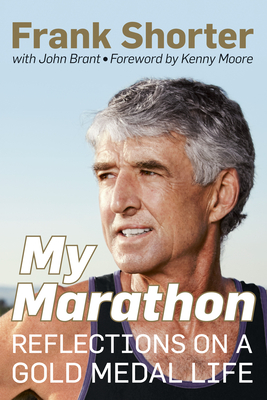 $26.99

If not in stock, we can Special Order from the publisher
Description
---
My Marathon: Reflections on a Gold Medal Life is a revealing memoir by Frank Shorter, the father of American distance running. After winning the 1969 NCAA title in the 10,000 meters during his senior year at Yale, Shorter went on to win a staggering 24 national titles on track, road, and cross-country courses, but it was in the marathon that Shorter achieved his greatest fame and recognition.

At the 1972 Munich Games, Shorter won the Olympic marathon finishing more than 2 minutes ahead of the second-place finisher. Four years later, he finished a controversial second in the marathon at the Olympic Games in Montreal. The controversy, still unresolved to this day, revolved around the East German "winner" being a possible drug cheat. Shorter later founded the United States Anti-Doping Agency. Written with noted sportswriter John Brant, My Marathon details these inspiring events, as well as the physical and emotional abuse Shorter suffered as a child.

This inspiring memoir is a testament to the resiliency of the human spirit and the transformative power of sports.
About the Author
---
FRANK SHORTER is the winner of 24 national championships and the 1972 Olympic marathon. A frequent contributor to nationally televised broadcasts of distance running events and an advocate for children's rights, Shorter was elected to the U.S. Olympic Hall of Fame in 1984. He lives in Boulder, CO.

JOHN BRANT is a freelance sportswriter whose work has been anthologized in The Best American Sports Writing seven different times. A frequent contributor to Runner's World magazine and the author or coauthor of three previous books on running, he lives in Portland, OR.
Praise For…
---
"All American marathoners owe Frank Shorter a debt of gratitude for everything he has done to promote and advance our sport. As a fellow Olympian, I am proud to carry on the tradition of excellence Frank established with his outstanding performances at the Munich and Montreal games. My Marathon is a remarkable book because it not only recounts Frank's many accomplishments on the track and the road, but also because it reveals the enormous sacrifices and dedication it takes to compete at an elite level. This book, like its author, is an inspiration."
— Meb Keflezighi, 4-time U.S. Olympian

"Frank Shorter is the most uncommon of athletes. His riveting, inspiring and blindingly honest story details the work ethic, discipline and torment that formed his character and made him a champion. It may have taken more courage to write this book than it did to become the world's best marathon runner—perhaps the best ever."
— George A. Hirsch, chairman, New York Road Runners, co-founder, New York City Marathon, and former worldwide publisher of Runner's World magazine

"Frank Shorter is America's first runner, not just for his pivotal win in the 1972 Olympic Marathon, but also for the intellect and candor he has brought to each of his missions. Whether fighting 'shamateurism,' athlete doping, or terrorist strikes, Shorter acts with razor-sharp clarity. My Marathon gives us previously unavailable insight into the man, including the rampant abuse in his family, and the running boom he towered over."
— Amby Burfoot, editor-at-large, Runner's World magazine & 1968 Boston Marathon champion

"This is a courageous book by a splendid human being whose life has personified the Japanese proverb: Fall seven times, get up eight. From rock bottom to Olympic champion, Frank Shorter has shown that the human spirit is indomitable. Cheated out of a second Olympic gold medal, Frank has waged a continuous campaign—publicly and privately—to ensure that other athletes are not similarly victimized. All readers will learn a lot about Frank and, in the process, learn something about themselves."
— Richard W. Pound, former president of the World Anti-Doping Agency

"My Marathon is a heartfelt, illuminating and inspiring memoir that goes far beyond the 26.2 miles endured by most marathoners and travels over roads few would have had the strength to survive. Not only did Frank Shorter survive, he become both an Olympic champion and a champion for running from its infancy through the enormous growth and popularity our sport enjoys today. Instead of running away from the many challenges he has faced, Frank has run head on into advocating for what is right in sport and in life."
— Joan Benoit Samuelson, 1984 Olympic marathon champion

Coverage from NPR