Sacred Instructions: Indigenous Wisdom for Living Spirit-Based Change (Paperback)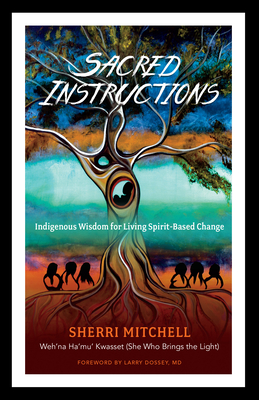 Description
---
A "profound and inspiring" collection of ancient indigenous wisdom for "anyone wanting the healing of self, society, and of our shared planet" (Peter Levine, author of Waking the Tiger: Healing Trauma).

A Penobscot Indian draws on the experiences and wisdom of the First Nations to address environmental justice, water protection, generational trauma, and more.

Drawing from ancestral knowledge, as well as her experience as an attorney and activist, Sherri Mitchell addresses some of the most crucial issues of our day—including indigenous land rights, environmental justice, and our collective human survival. Sharing the gifts she has received from the elders of her tribe, the Penobscot Nation, she asks us to look deeply into the illusions we have labeled as truth and which separate us from our higher mind and from one another.
 
Sacred Instructions explains how our traditional stories set the framework for our belief systems and urges us to decolonize our language and our stories. It reveals how the removal of women from our stories has impacted our thinking and disrupted the natural balance within our communities.
 
For all those who seek to create change, this book lays out an ancient world view and set of cultural values that provide a way of life that is balanced and humane, that can heal Mother Earth, and that will preserve our communities for future generations.
About the Author
---
SHERRI MITCHELL was born and raised on the Penobscot Indian reservation. She received her Juris Doctorate and a Certificate in Indigenous People's Law and Policy from the University of Arizona's James E. Rogers College of Law. She is an alumna of the American Indian Ambassador program, and the Udall Native American Congressional Internship program. She is the Founding Director of the Land Peace Foundation, an organization dedicated to the global protection of indigenous rights and the preservation of the indigenous way of life. Sherri speaks and teaches around the world on issues of indigenous rights, environmental justice, spiritual activism, and transformational change. Sherri is also the co-host of Love (and Revolution) Radio, a syndicated radio program that highlights stories of heart-based activism and revolutionary spiritual change.
Praise For…
---
"Sacred Instructions is an important book that synthesizes a wealth of information in an approachable and empowering way. Mitchell's steady, assured tone and recommendations for action makes this a rewarding book for anyone looking for a way to engage in less conflict-based, more effective community change."
—Foreword

"A deeply personal meditation and call to consciousness and transformation, Sacred Instructions challenges the way we see and experience the world around us. For many readers, the book will reveal the first steps toward a process of self-discovery and spiritual awareness that Mitchell shows us must be lived and breathed every day on our own personal journeys of decolonization and patient recovery of an indigenized worldview."
—Robert A. Williams, Jr., chair of the University of Arizona Indigenous People's Law and Policy Program and author of Savage Anxieties

"In this compelling book, Sherri Mitchell helps all of us understand the experience of First Nations peoples and helps us to embody that unique wisdom. She brings forth a broad understanding of cultural and generational trauma in a way that supports deep healing. The wisdom of this courageous book is profound and inspiring. It is recommended for anyone wanting the healing of self, society, and of our shared planet."
—Peter A. Levine, PhD, author of Waking the Tiger: Healing Trauma

"In this passionate prayer for reclaiming and celebrating indigenous wisdom, sacred activist Sherri Mitchell invites everyone to the table. Both Native and non-Native peoples have been suffering from the ongoing trauma of colonization. The remedy is a conscious and loving embrace of core cultural values of reverence for the earth and clear-sighted collaboration. Mitchell's intelligent writing and wise heart light the way."
—Mirabai Starr, translator of Dark Night of the Soul: John of the Cross and author of Caravan of No Despair: A Memoir of Loss and Transformation

"Lawyer and activist Mitchell, a member of the Penawahpskek (Penobscot) Nation, offers an all-embracing message of human connectedness that will resonate widely."
—Publishers Weekly

"Mitchell introduces a rich, sophisticated, and socially aware spirituality. Anyone interested in holistic faith traditions will find her work rewarding."
—Library Journal