Touching Enlightenment: Finding Realization in the Body (Paperback)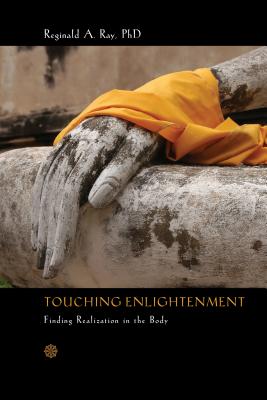 List Price: $19.95
Our Price: $10.00
(Save: $9.95 50%)
On Our Shelves Now. Click on the title to see details.
Description
---
What does it mean to "meditate with the body"? Until you answer this question, explains Reggie Ray, meditation may be no more than a mental gymnastic —something you can practice for years without fruitful results.

In Touching Enlightenment, the esteemed author of five books about Buddhist history and practice guides you back to the original practice of the Buddha: a systematic process that results in a profound awareness in your body rather than in your head.

Combining the scholarship that has earned him international renown with original insights from nearly four decades practicing and teaching meditation, Reggie Ray invites you to explore:

How to enter fully into communion with your embodied nature
• The insights of Tibetan yoga, from guidance on breathing and working with discomfort to its challenge to modern practitioners on the path to realization
• Why "rejected" experience becomes imprinted in the body —and how to receive it anew to reconstitute your human way of being
• Karma of cause and karma of result —taking full responsibility for your life
• Your three bodies—the physical, the interpersonal, and the cosmic
"To be awake, to be enlightened, is to be fully and completely embodied. To be fully embodied means to be at one with who we are, in every respect, including our physical being, our emotions, and the totality of our karmic situation," writes Reggie Ray. In Touching Enlightenment, he offers you a map of unprecedented clarity and power for embarking on the journey toward ultimate realization in and through the body.
About the Author
---
Reginald A. Ray, PhD, is the cofounder and spiritual director of Dharma Ocean Foundation, dedicated to the evolution and flowering of the somatic teachings of Tibetan Tantra. He is a lineage holder in the tradition of Chögyam Trungpa Rinpoche. Reggie is the author of several books including Touching Enlightenment and The Awakening Body. He makes his residence in Crestone and Boulder, Colorado. For more, visit dharmaocean.org.
Praise For…
---
"Through his own deep experience, Reggie Ray skillfully guides us into an awakened bodily life. He offers necessary, wise, and liberating practices of realization within our mysterious human form." —Jack Kornfield, PhD, author of A Path with Heart

"Touching Enlightenment provides readers with a fresh look at the steps required to turn our understanding of enlightenment into full embodiment—a vital process that determines the way in which we actually conduct our lives. An indispensible book for the serious practitioner." —John Daido Loori, abbot of Zen Mountain Monastery and author of True Dharma Eye: Master Dogen's Three Hundred Koans

"Reggie Ray's approach to the dharma is wonderfully fresh while also radically rooted in the foundation of the Buddha's meditation instruction—mindfulness of body. He has a richly textured understanding of the lived body as the vessel of wisdom mind, as well as the carrier of all the karmic patterns that obscure this pristine awareness. Highly recommended." —John Welwood, author of Toward a Psychology of Awakening