Insomniac City: New York, Oliver, and Me (Hardcover)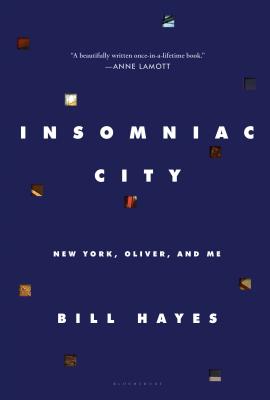 Description
---
Amazon's Best Biographies and Memoirs of 2017 List

A moving celebration of what Bill Hayes calls "the evanescent, the eavesdropped, the unexpected" of life in New York City, and an intimate glimpse of his relationship with the late Oliver Sacks.

"A beautifully written once-in-a-lifetime book, about love, about life, soul, and the wonderful loving genius Oliver Sacks, and New York, and laughter and all of creation."--Anne Lamott

Bill Hayes came to New York City in 2009 with a one-way ticket and only the vaguest idea of how he would get by. But, at forty-eight years old, having spent decades in San Francisco, he craved change. Grieving over the death of his partner, he quickly discovered the profound consolations of the city's incessant rhythms, the sight of the Empire State Building against the night sky, and New Yorkers themselves, kindred souls that Hayes, a lifelong insomniac, encountered on late-night strolls with his camera.

And he unexpectedly fell in love again, with his friend and neighbor, the writer and neurologist Oliver Sacks, whose exuberance--"I don't so much fear death as I do wasting life," he tells Hayes early on--is captured in funny and touching vignettes throughout. What emerges is a portrait of Sacks at his most personal and endearing, from falling in love for the first time at age seventy-five to facing illness and death (Sacks died of cancer in August 2015).Insomniac City is both a meditation on grief and a celebration of life. Filled with Hayes's distinctive street photos of everyday New Yorkers, the book is a love song to the city and to all who have felt the particular magic and solace it offers.
About the Author
---
Bill Hayes is the author of Insomniac City and How New York Breaks Your Heart, a collection of his street photography, among other books. He is a recipient of the New York City Book Award for How We Live Now, and a Guggenheim Fellowship in nonfiction. Hayes has completed the screenplay for a film adaptation of Insomniac City, currently in the works from Brouhaha Entertainment, and he is also a co-editor of Oliver Sacks's posthumous books. He lives in New York. Visit his website at billhayes.com
Praise For…
---
"[A] loving tribute to Sacks and to New York . . . Read just 50 pages, and you'll see easily enough how Hayes is Sacks's logical complement. Though possessed of different temperaments, both are alive to difference, variety, the possibilities of our rangy humanity; both are avid chroniclers of our species . . . Frank, beautiful, bewitching--[Hayes's photographs] unmask their subjects' best and truest selves." - Jennifer Senior, New York Times

"This touching memoir of the late neurologist Oliver Sacks, by a photographer and writer with whom he fell in love near the end of his life, turns a story of death into a celebration." - The New Yorker

"[Insomniac City] seems written in heightened states of feeling that infuse every detail with meaning and transient beauty." - Our Best Adult Books of 2017 - Nonfiction, Shelf Awareness

"Remarkably poignant. Readers will find themselves wishing the two men had more time, but as Hayes makes clear, they wasted none of the time they had." - Publishers Weekly

"A unique and exuberant celebration of life and love." - Kirkus Reviews

"Like Patti Smith's haunting M Train, Hayes' book weaves seemingly disparate threads of memory into a kind of sanctuary -- a secret place where one can shake off the treasured relics of past lives and prepare to be reborn anew." - San Francisco Chronicle

"Hayes captures both the frenetic, exhilarating pace of New York City as well as the whimsy, fun and romance of the years he spent with Sacks." - New York Post

"Insomniac City is resoundingly about life--about being wide awake to possibility, to the beauty of every fleeting moment." - Oprah.com

"Buy a box of tissues and pray for snow: This is the perfect weekend February read, and will have you alternately bawling and giddily clapping your hands for the lovers that may not have had the time they deserved, but certainly made the best with the time that they had." - Newsweek, "The Best New Book Releases"

"Hayes beautifully depicts the life and night light in a city which never sleeps. As you read this beautifully written book, you feel as if you are walking through the streets of New York and living this insomniac city's night life. This is an extremely enjoyable read for those who never stop fancying New York." - Washington Independent Review of Books

"As eloquent in its silences and visuals as it is in its telling of the secrets of the heart. . . . The brilliance of Insomniac City is that almost Tolstoy-an directness and concretion of observation, both down-to-earth and downright visionary." - Bay Area Reporter

"Poetic and profound . . . What emerges from this dual love letter is a lyrical reminder that happiness and heartache are inseparably entwined. . . . Insomniac City is an ineffably splendid read in its entirety, a mighty packet of pure aliveness." - Brainpickings

"That life permeates every page of Insomniac City, a dual love story of a powerful relationship that will shortly end but, also, of a city that is constantly reinventing itself." - Counterpunch

"Breathtaking . . . It's the kind of book that makes you stay up late without regret . . . Hayes' precise and affectionate observations of his newly adopted city, its denizens, subways, bodegas, and landmarks allow the reader to experience it through fresh eyes." - Palette Magazine

"Insomniac City is a beautiful memoir in which Oliver Sacks comes wonderfully to life--a double portrait that also provides a vivid picture of New York City's neighborhoods and people. The ending is exquisitely wrought, heartrending and joyous." - Joyce Carol Oates

"Like New York, the city he celebrates so poignantly in this book, Bill Hayes mixes 'memory with desire' to create a heartbreakingly gorgeous story of love, loss, and renewal." - Azar Nafisi, author of READING LOLITA IN TEHRAN

"Hayes turns out to be that particular kind of big-city denizen, the irrepressible soul who treats the pavement like a cocktail party." - Peter Lewis, Barnes & Noble

"Insomniac City is a love story to New York and the people we cherish, for Bill Hayes, the late Oliver Sacks. With prescience and tenderness, written with a sharp eye and a camera attuned to life on the streets, Hayes has composed a gorgeous memoir on why place matters to the soul of our humanity. I loved every single sentence in this quiet night-book, erotic and evocative, at once." - Terry Tempest Williams, author of THE HOUR OF LAND

"A lyrical love letter to his partner of six years, Dr Oliver Sacks, and to New York City itself. Through a series of tender vignettes, we meet the characters from the streets of Manhattan, and we are brought into the cocoon of Oliver Sacks' apartment" - Irish Times

"No lack of tenderness in Insomniac City, Bill Hayes's memoir of his life in New York with the writer and neurologist Oliver Sacks" - Guardian

"A love letter to Sacks, but also to New York... Overheard remarks, curious reflections by Sacks, poetic observations keep the narrative moving" - Edmund White, Guardian