The Book of Love and Hate (Paperback)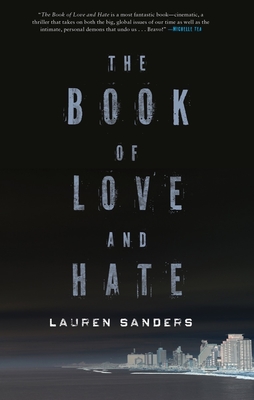 $15.95
Usually Ships in 1-5 Days
Description
---
"Sanders, whose first novel Kamikaze Lust, won a 2000 Lambda Literary Award, offers an international espionage thriller in which a failed Olympic speed skater falls for her father's lover, a former Israeli army pilot turned corporate spy."
--Publishers Weekly
"This is a book of murky morality and uncertain resolutions. Which is to say, a thriller of literary pedigree, unbound by convention...If you're seeking a cathartic resolution in the final pages, you might be disappointed--but you shouldn't be surprised. Not when you're talking about Israel and corrupt fortunes, and madness, obsession, and abuse. These are the themes of timeless fiction; we can work through them and seek something resembling sanity. Just don't expect to find a safe, comforting space in the pages of Lauren Sanders's discomforting and terrific book."
--Village Voice
" A] thrilling tale of espionage, family ties, sex, love, and betrayal. If you're looking for an exciting and juicy read, look no further."
--The Advocate, Included in "17 New Books About LGBT Families"
"Set in contemporary Israel, The Book of Love and Hate by Lambda Literary Award-winning author Lauren Sanders follows failed Olympic speed skater Jennifer on a quest to find her missing billionaire father as she encounters 'fake Orthodox Jews, queer Palestinians on the run' and a host of others."
---Bay Area Reporter
"The Book of Love and Hate, a new novel from Lambda Literary Award winner Lauren Sanders, tells of protagonist Jennifer Baron encounters with queer Palestinians in Israel while searching for her missing father."
--Washington Blade
"A literary spy thriller and love story that shifts between New York and Israel, The Book of Love and Hate by Lauren Sanders is told from the perspective of a failed Olympic skater, trying to stay sober. Traveling to Israel in search of her disappeared father, she encounters a Mossad agent gone bad, fake Orthodox Jews, gay Palestinians on the run and others wandering the Holy Land."
--The New York Jewish Week, included in Fall Books Preview
"Jennifer Baron, a failed speed skater, tries to stay sober after her Olympic downfall. She's running her father's business, a billion-dollar foundation, when he mysteriously disappears. Soon she's invited to a conference that turns out to be a covert meeting with her father and a corporate spy."
--Publishers Weekly; included in Fall 2017 Adult Announcements, Literary Fiction
"Sanders knows how to craft a story. The storyline is riveting, and the personal development of the characters kept me engaged on a deeper level than even her thrilling plot could. Her prose is beautiful and brings you to an ending that is sure to have you reeling."
--Windy City Times
Jennifer Baron is a failed Olympic speed skater now running her family's foundation and trying to stay sober, when her billionaire father disappears. She travels to Israel in search of him, becoming recklessly entangled in his illegal dealings and with his enigmatic lover, Gila, a former Mossad agent gone bad. Along the way, she is drawn into the shadow worlds of the Promised Land, where career-jockeying government agents, fake Orthodox Jews, queer Palestinians on the run, and other displaced wanderers scramble to find home amid the endless cycles of war, occupation, and heartbreak.
The Book of Love and Hate is an unraveling of white-collar crime and its motivations. It's a testament to the magnificent oblivion of love and a shattering of inherited trauma, both personal and historical.
About the Author
---
Lauren Sanders is the author of two novels--Kamikaze Lust, which won a Lambda Literary Award, and With or Without You. Her writing has appeared in various publications and journals including Bookforum, the American Book Review, and Time Out New York. She is a resident of the great nation of Brooklyn.