Avatar: The Last Airbender - Smoke and Shadow Part One (Paperback)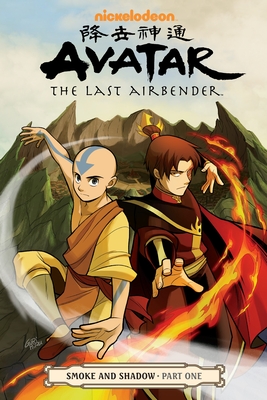 $12.99

NOT on our shelves - Usually Ships in 1-5 Days
Description
---
The Fire Nation is threatened by a prophecy told by the Kemurikage--mysterious figures thought only to exist in legend--remove Zuko from the throne or the country will perish!

Avatar Aang and his friends escort Zuko and his family back to the capitol completely unaware of the looming threat growing in the city. Unrest is brewing as the New Ozai Society prepares to make its move against the crown, and children begin to go missing from their homes under mysterious circumstances!

Written and drawn by the creative team behind the best-selling The Promise, The Search and The Rift, Gene Luen Yang and Gurihiru, in collaboration with Avatar: The Last Airbender and Legend of Korra creators Michael Dante DiMartino and Bryan Konietzko, this is the ultimate continuation of Avatar and the perfect companion to Legend of Korra!
About the Author
---
Gene Luen Yang began making comic books in the fifth grade. He has since written and drawn a number of titles. His 2006 book, American Born Chinese, was the first graphic novel to be nominated for a National Book Award and the first to win the American Library Association's Michael L. Printz Award. It also won an Eisner Award for Best Graphic Album - New. His 2013 two-volume graphic novel, Boxers & Saints, was nominated for both the National Book Award and the LA Times Book Award. Gene currently writes the graphic novel continuation of the popular Nickelodeon cartoon, Avatar: The Last Airbender.The Shadow Hero, his comic book series with Sonny Liew, revived the Green Turtle, an obscure 1940s character who is arguably the first Asian American superhero. The Shadow Hero is now available as individual digital issues via Amazon Kindle. The author lives in San Jose, CA..