Inspiring Forgiveness: Poems, Quotations, and True Stories to Help with Forgiving Yourself and Others (Paperback)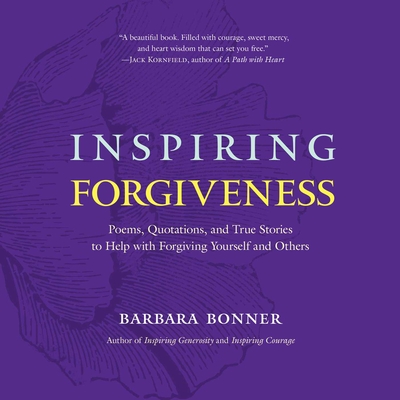 $19.95
On Our Shelves Now. Click on the title to see details.
Description
---
An encouraging guide for the angry or heartbroken soul, in the form of uplifting stories and quotations.

Sometimes forgiveness can feel unfathomable, unreachable, or even just plain wrong. Inspiring Forgiveness throws wide open the doors of possibility within the human heart with the wise words of philosophers, writers, poets, and great thinkers from across centuries and continents. Each offering can serve as guideposts along the path to bringing greater forgiveness into our lives. This book also tells the stories of real-world people—from the Dalai Lama to Congressman John Lewis and more—whose lives were changed forever by forgiveness, including for themselves. Just bearing witness to these experiences can itself be transformative.

One wise teacher quoted in this book, Pema Chödrön, offers a simple practice for cultivating forgiveness: "First we acknowledge what we feel—shame, revenge, embarrassment, remorse. Then we forgive ourselves for being human. Each moment is an opportunity to make a fresh start." This book is a collection of those moments.

Inspiring Forgiveness consists of twelve true stories of people who have endured great pain at the hands of others and have found a way to open themselves to forgiveness in its many forms. Each story is followed by extraordinary poems that speak to forgiveness as well as a collection of over 100 inspiring quotations.

"What a wonderful illumination of the power of forgiveness Barbara Bonner has given us. The book's unique gathering of personal stories, poems, and quotations shows that forgiveness is not a momentary feeling but an attitude toward life, a practice of deep self-healing, and a path to freedom. Inspiring Forgiveness is aptly titled, for it does more than tell us about forgiveness, it inspires us to live it."
—John Brehm, editor of The Poetry of Impermanence, Mindfulness, and Joy
About the Author
---
After starting her professional life as an art historian, Barbara Bonner has devoted her career to nonprofit management, fundraising and philanthropy. In New York she held leadership positions in three of the city's distinguished museums. She then served as Vice President of Bennington College and of the Kripalu Center for Yoga and Health. Since 2009 she has had her own consulting company that helps nonprofit organizations transform their board leadership and philanthropic support. In addition, Barbara has served on ten nonprofit boards, most recently as Board Chair of The Barre Center for Buddhist Studies. Several years ago she started a major fund for helping women with cancer in her region. After 30 years in New York City, Barbara now lives in a converted barn in the Berkshire hills of Western Massachusetts.
Her first book,
Inspiring Generosity,
was published in 2014; her second book,
Inspiring Courage,
was published in 2017. Barbara has spoken widely on the subjects of generosity and leadership and is a frequent contributor to The Huffington Post.
Praise For…
---
"A beautiful book. Filled with courage, sweet mercy, and heart wisdom that can set you free."
— Jack Kornfield, author of A Path with Heart

"Inspiring Forgiveness is a balm for this troubled world. It shows a path forward through the pain of harm and loss, opening new possibilities of love and freedom. This book actualizes its title: inspiring the great healing potential of forgiveness in all our lives."
— Joseph Goldstein, author of Mindfulness: A Practical Guide to Awakening

"Barbara Bonner has created another gem."
— Sharon Salzberg, author of Lovingkindness and Real Happiness

"More than ever, our world needs the wise and healing reminders Barbara Bonner offers in this jewel box of a book. These beautiful stories, poems, and quotes will bathe and tenderize your heart."
— Tara Brach, author of Radical Acceptance and Radical Compassion

"Read this book a little, and you will find a little forgiveness. Read this book completely, and you will free your heart."
— Sumi Loundon Kim, Buddhist chaplain at Yale University, and author of Sitting Together: A Family-Centered Curriculum on Mindfulness, Meditation, and Buddhist Teachings

"Barbara Bonner hit a grand-slam with Inspiring Forgiveness! This profoundly touching book feels like a soothing balm for the heart. It calms and comforts where we need it most, including forgiving ourselves."
— Rick Hanson, PhD, author of Buddha's Brain

"I adore this book, and will, quite simply, spend the rest of my life digesting its wisdom."
— Stephen Cope, author of The Great Work of Your Life

"This book, masquerading as an inspirational volume, urgently points to a quality essential to our well-being. While focused on forgiveness, this is but one instance of the broader value of learning to let go—of our regrets, grievances, petty preoccupations, distorted and self-serving stories—all of it. Letting go of our tendency to nurture our injuries is as imperative to emotional health as it is challenging. Bonner's eloquent examples of those who have suffered more than most of us can imagine point, again and again, to the very real possibility of forgiving, and its value for us, those who have been harmed. The volume itself is lovely in its abundant use of poetry, quotes, even the typesetting. But this loveliness should not be taken to suggest the topic is trivial; indeed it points to the absolute requirement of relearning kindness toward ourselves and others as a prerequisite for restoring peace to our world."
— Paul Fulton, cofounder of the Institute for Meditation and Psychotherapy

"Inspiring Forgiveness is a book that has worked me into the bones of my integrity. I hate the difficulty of the process, yet love the life that holds it. This book invites a complex purifying aspect for us all—thus deepening our capacity to live together with greater freedom."
— Larry Yang, author of Awakening Together: The Spiritual Practice of Inclusivity and Community

"What a wonderful illumination of the power of forgiveness Barbara Bonner has given us. The book's unique gathering of personal stories, poems, and quotations shows that forgiveness is not a momentary feeling but an attitude toward life, a practice of deep self-healing, and a path to freedom. Inspiring Forgiveness is aptly titled, for it does more than tell us about forgiveness, it inspires us to live it."
— John Brehm, editor of The Poetry of Impermanence, Mindfulness, and Joy

"Forgiveness is hard won. It takes everything, and we are not in charge of the timing of the process. We have to just be completely willing. Easy to say. In this treasury, Barbara Bonner walks us through many new ways and insights to forge a new relationship to forgiveness."
— Sensei Koshin Paley Ellison, author of Wholehearted: Slow Down, Help Out, Wake Up

"An inspiring celebration of the greatest human virtue."
— David Loy, author of Ecodharma: Buddhist Teachings for the Ecological Crisis

"There may be nothing more challenging than to forgive what we believe to be unforgivable—it is one of the greatest acts of courage and love we can experience. In this brilliant book, Barbara Bonner has connected together an inspiring collection of stories and writing that guides us through this profound soul work. With care and vision she creates a pathway for us to recover the possibility and power in trusting our capacity to forgive and ultimately to love."
— Sebene Selassie, teacher and writer

"Forgiveness is the enabler for healing and reconciliation between individuals, groups, and nations alike. In this beautifully crafted book, Barbara weaves together stories, poems, and quotes to inspire ways forgiveness can enrich our lives. May these words inspire many to lighten our hearts of anger, hatred, and the delusion of our separation."
— Anurag Gupta, MPhil, JD, expert on Breaking Bias & CEO, BE MORE

"Bonner brings the reader into a meditative journey, discovering many facets of forgiveness along the way. A delightful read."
— Judson Brewer, MD, PhD, author of The Craving Mind: From Cigarettes to Smartphones to Love – Why We Get Hooked and How We Can Break Bad Habits

"Inspiring Forgiveness is a beautifully designed contemplation on one of the best practices we have for healing and opening our hearts."
— Elizabeth A. Stanley, PhD, author of Widen the Window: Training Your Brain and Body to Thrive During Stress and Recover from Trauma

"This powerful book can defuse the most destructive bombs and clean the wounds caused by the shrapnel of anger."
— Leslie Thomas, director of The Prosecutors