Bow First, Ask Questions Later: Ordination, Love, and Monastic Zen in Japan (Paperback)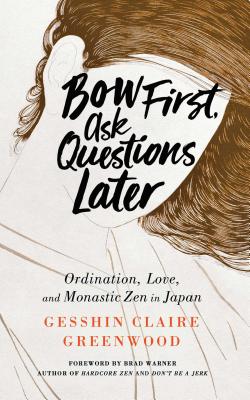 $17.95

On Our Shelves Now. Click on the title to see details.
Description
---
What happens when a free-spirited, modern American girl goes on a spiritual quest into structured, traditional Japanese Zen life? Gesshin Claire Greenwood was a liberal, free-spirited American girl who found meaning and freedom in disciplined, traditional Japanese Zen life. However, she came to question not only contemporary American values but also traditional monastic ones. This book is about becoming an adult--about sexuality, religion, work, ethics, and individuality--but it is also about being a human being trying to be happy. Questioning is a theme that runs throughout the book: how can I be happy? What is true? What is authentic? The reader is invited along a journey that is difficult, inspiring, sad, funny, and sincere.
About the Author
---
Gesshin was born and raised in San Francisco. She began meditating when she was 19, and then studied abroad in Bodh Gaya, India, where she received temporary ordination in the Burmese Theravada lineage. She received a BA in English from Wesleyan University in 2009, and spent the majority of her twenties in India and Japan practicing Buddhism. She ordained with Seido Suzuki Roshi in 2010, and received dharma transmission in 2015. She is currently completing a master's in East Asian Studies from the University of Southern California, where she focuses on women in Buddhism and feminism in a transnational perspective.