Leading Successful Change: 8 Keys to Making Change Work (Paperback)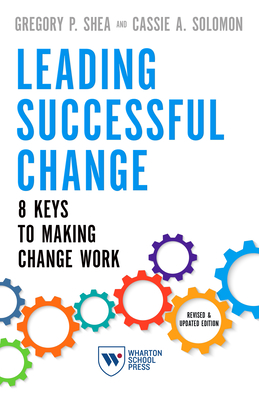 $18.99

NOT on our shelves - Usually Ships in 1-5 Days
Description
---
"Few people have more experience guiding organizational change than Greg Shea and Cassie Solomon." --Adam Grant, New York Times-bestselling author, Originals and Give and TakeFeatured on CNBC and in Harvard Business Review and Fast Company, Leading Successful Change is now updated for 2020 and beyond to help leaders successfully navigate the ever-increasing pace of change.
When Jack Dorsey returned to Twitter as CEO in 2015, the company was in trouble. But unlike so many other social media platforms that have crumbled under tough conditions, Twitter is still alive--and thriving.
How did Twitter turn itself around in one of the most turbulent and competitive industries? The change management approach of authors
Gregory P. Shea
and
Cassie A. Solomon
guided a significant area of the organization's turnaround effort.
In this revised and updated edition of
Leading Successful Change
, Shea and Solomon share success stories from a host of companies including
Twitter
,
Viacom
, and the
Conference of State Bank Supervisors
, offering a tested method for leading successful change, which they have developed over a combined 50 years of helping organizations do just that.
In
Leading Successful Change
, Shea and Solomon share:
Why most change efforts fail
The two key tenets for making successful change
How to create a scene that will provide a vision of the future
The 8 Levers of Change, a tried-and-true method for designing the work environment to support the changes
How winning companies--from IKEA to Whirlpool--are successfully implementing change
Change is not optional and it is difficult--but it is also not impossible--with
Leading Successful Change
.
"A must-use guide for anyone who is faced with leading others to a future that is better than today."
--
Annie McKee, author, How to Be Happy at Work.
"Greg Shea and Cassie Solomon have written a novel and valuable resource for leaders of change."
--
Michael Useem, Professor of Management, The Wharton School, and author, The Leader's Checklist
"Wonderfully concise."
--
Richard J. Green, Board Chairman and CEO, Firstrust Bank
"The handbook for positive disruption for any leader in any industry in the 2020s."
--
Stephen K. Klasko, President and CEO, Thomas Jefferson University; Distinguished Fellow for the Future of Health, World Economic Forum
About the Author
---
Gregory P. Shea, PhD, president of Shea and Associates, Inc., consults, researches, writes, and teaches in the areas of organizational and individual change and leadership. He is adjunct professor of management at the Wharton School of the University of Pennsylvania and of its Aresty Institute of Executive Education, senior fellow at Wharton School's Center for Leadership and Change, adjunct senior fellow at the Leonard Davis Institute of Health Economics at Wharton, and senior consultant at the Center for Applied Research. He was awarded an Excellence in Teaching Award from Wharton. Shea is a member of the Academy of Management and the American Psychological Association. He frequently co-hosts Sirius Business Radio's In the Workplace and has numerous podcasts and articles on Knowledge@Wharton. His writing has appeared in such journals as the Sloan Management Review, Journal of Applied Management, Journal of Applied Behavior Science, Journal of Conflict Resolution, British Journal of Social Psychology, Journal of Management Development, and Nursing Administration Quarterly. He has also served as contributing editor to or reviewer for various professional journals. Shea is the coauthor of Your Job Survival Guide: A Manual for Thriving in Change. He is a Magna Cum Laude, Phi Beta Kappa graduate of Harvard College and holds an MSc in management studies from the London School of Economics and an MA, MPhil, and PhD in Administrative Science from Yale University. Cassie A. Solomon, president and founder of The New Group Consulting, Inc., coaches leaders and consults to organizations on the design and implementation of strategic change. She instructs executives at Wharton's Aresty Institute of Executive Education and has taught health care executives at the University of Pennsylvania's Leonard Davis Institute of Health Economics. She is the creator of RACI Solutions and has helped leaders around the around the globe break down silos and strengthen cross-functional teams. Her writing has appeared in Knowledge@Wharton, Fast Company and Harvard Business Review. Solomon is a certified futurist and an ardent student of the impact of new technology on the future of work. She is a member of the Institute for the Future in Palo Alto. Cassie is an alumna of Yale University and the Wharton School of the University of Pennsylvania.