Death and the Conjuror: A Locked-Room Mystery (Paperback)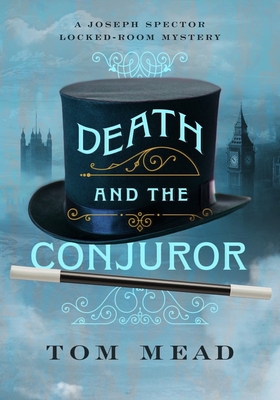 $16.95

NOT on our shelves - Usually Ships in 1-5 Days
Description
---
A Publishers Weekly Top 10 Best Mysteries of 2022 Selection
In this "sharply-drawn period piece" (New York Times), a magician-turned-sleuth in pre-war London solves three impossible crimes
In 1930s London, celebrity psychiatrist Anselm Rees is discovered dead in his locked study, and there seems to be no way that a killer could have escaped unseen. There are no clues, no witnesses, and no evidence of the murder weapon. Stumped by the confounding scene, the Scotland Yard detective on the case calls on retired stage magician-turned-part-time sleuth Joseph Spector. For who better to make sense of the impossible than one who traffics in illusions?
Spector has a knack for explaining the inexplicable, but even he finds that there is more to this mystery than meets the eye. As he and the Inspector interview the colorful cast of suspects among the psychiatrist's patients and household, they uncover no shortage of dark secrets—or motives for murder. When the investigation dovetails into that of an apparently-impossible theft, the detectives consider the possibility that the two transgressions are related. And when a second murder occurs, this time in an impenetrable elevator, they realize that the crime wave will become even more deadly unless they can catch the culprit soon. 
A tribute to the classic golden-age whodunnit, when crime fiction was a battle of wits between writer and reader, Death and the Conjuror joins its macabre atmosphere, period detail, and vividly-drawn characters with a meticulously-constructed fair play puzzle. Its baffling plot will enthrall readers of mystery icons such as Agatha Christie and John Dickson Carr, modern masters like Anthony Horowitz and Elly Griffiths, or anyone who appreciates a good mystery.
About the Author
---
Tom Mead is a UK-based author specializing in crime fiction. His stories have appeared in Ellery Queen's Mystery Magazine, Alfred Hitchcock Mystery Magazine, Litro Online, Flash: The International Short-Short Story Magazine, Lighthouse, Mystery Scene and Mystery Weekly (among others). Several of his pieces have also been anthologized, most recently "Heatwave" in The Best Mystery Stories of the Year 2021 (ed. Lee Child). His debut novel Death and the Conjuror was selected as one of the top ten best mysteries of the year by Publishers Weekly.
Praise For…
---
An engrossing tale of murder and magicians, and a revealing exploration of the ever-popular locked-room mystery, Mead's debut is a novel to intrigue and delight.
— John Connolly

Tom Mead has created an intriguing set of puzzles on par with John Dickson Carr in Death and the Conjuror. A true delight for mystery lovers!

— Charles Todd

With a deviously intricate locked-room plot, Death and the Conjuror unfolds as both an elegant tribute and a cunning update of the classic "impossible crime" story. Somewhere, the great John Dickson Carr is smiling.

— Daniel Stashower, two-time Edgar-winner and author of the Harry Houdini mysteries

This debut, a tribute to John Dickson Carr and other Golden Age masters of the locked-room mystery, will appeal to nostalgia buffs and fans of the classics.
— Library Journal

Mead's debut novel is a valentine to the locked-room puzzles of John Dickson Carr, to whom it is dedicated... Mead faithfully replicates all the loving artifice and teasing engagement of golden-age puzzlers in this superior pastiche.
— Kirkus

Mead's
stellar debut and series launch [is] an homage to golden age crime fiction, in
particular the works of John Dickson Carr… Mead maintains suspense throughout, creating a creepy
atmosphere en route to satisfying reveals. Puzzle mystery fans will eagerly
await the sequel.
— Publishers Weekly STARRED REVIEW

This ingenious (and fair-play) locked-room mystery should win over a new generation of readers to this delightfully devious style of classic mystery.
— Gigi Pandian, USA Today-bestselling author of Under Lock & Skeleton Key

A loving tribute to the locked-room master John Dickson Carr and a sharply drawn period piece.
— Sarah Weinman - The New York Times

An intricate, elegantly written 'impossible' crime that completely fooled me. Tom Mead is already a master of the art of misdirection.
— Peter Lovesey

A real treat for mystery fans.
— Ragnar Jonasson

Both a splendid homage to the Golden age of impossible crimes and its great exponent John Dickson Carr and a witty reconstruction of the classic locked room mystery with tongue in cheek bravado and a gallery of attendant, endearing characters, Tom Mead's debut is a sheer delight.
— Maxim Jakubowski, author, editor and CWA chairman

Both a splendid homage to the Golden age of impossible crimes and its great exponent John Dickson Carr and a witty reconstruction of the classic locked room mystery with tongue in cheek bravado and a gallery of attendant, endearing characters, Tom Mead's debut is a sheer delight.
— Maxim Jakubowski, author, editor and CWA chairman

This clever mystery combines a delightful homage to Golden Age detective fiction with a highly entertaining impossible crime puzzle – what more could any fan of classic crime wish for?
— Martin Edwards, Crime novelist and winner of the CWA Diamond Dagger 2020

An absolute delight. The Golden Age of detective fiction comes brilliantly alive. Great characters, wonderful locked-room puzzles, it kept me hooked.
— Jim Eldridge, author of the Museum Mystery series

One of the best locked-room mysteries I've read. I was both baffled and enthralled by every twist and am now a firm Spector enthusiast! A true golden age gem, right up there with the greats!
— T.A. Willberg, author of Marion Lane and The Midnight Murder

An intricate homage to golden age puzzle mysteries … Secrets, red herrings and sleights of hand abound in an ingenious piece of intriguing escapism.
— The Guardian