A Strange Habit of Mind (Cameron Winter Mysteries) (Hardcover)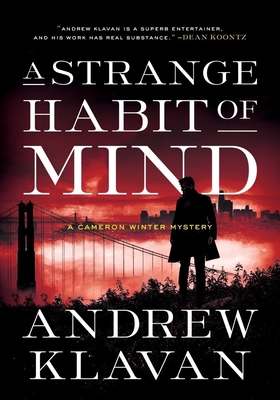 Description
---
USA Today bestseller
English professor and ex-spy Cameron Winter confronts a Big Tech billionaire to solve the suspicious suicide of a former student
The world of Big Tech is full of eccentric characters, but shamanic billionaire Gerald Byrne may be the strangest of the bunch. The founder of Byrner, a global social media platform, Byrne is known for speaking with vague profundity and for dabbling in esoteric spiritual practices; he wears his hair in a long black ponytail to reveal a large flower tattooed on his neck; he's universally admired as a visionary, a philanthropist, and a devoted husband and father. And every person who gets in the way of his good work seems to die.
When a former student commits suicide, English professor and ex-spy Cameron Winter takes it upon himself to understand why. The young man was expelled from the university in an unfortunate episode that left Winter sympathetic to his plight; after a prolonged silence, he reached out to his teacher with two words just before taking the fatal plunge from the roof of his San Francisco apartment: "Help me."
Winter has what he calls "a strange habit of mind"—the ability to imagine himself into a crime scene, to reconstruct it mentally and play through various possible causes and outcomes to understand exactly what took place. When he applies this exercise to Adam Kemp's desperate final moments, he discovers a troubling inconsistency. And when he learns that Kemp was in a tumultuous relationship with Gerald Byrne's niece, he begins to suspect that the suicide was the result of a carefully-engineered plot, put in motion by the powerful businessman. 
Featuring the tough-but-learned protagonist from 2021's When Christmas Comes, A Strange Habit of Mind is a thrilling mystery set in the cutthroat world of tech money and tech influence, where unchecked fortunes produce unstoppable power for a lawless few.
About the Author
---
Andrew Klavan is the author of such internationally bestselling crime novels as True Crime, filmed by Clint Eastwood, Don't Say A Word, filmed starring Michael Douglas, Empire of Lies and Werewolf Cop.  He has been nominated for the Mystery Writers of America's Edgar Award five times and has won twice. He wrote the screenplays to "A Shock to The System," which starred Michael Caine, "One Missed Call," which starred Edward Burns, and "Gosnell: The Trial of America's Biggest Serial Killer," starring Dean Cain. His political satire videos have been viewed by tens of millions of people, and he currently does a popular podcast The Andrew Klavan Show at the Daily Wire. He is also the author of a memoir about his religious journey The Great Good Thing: A Secular Jew Comes to Faith in Christ. His fantasy-suspense trilogy Another Kingdom was among the top 100 podcasts.
Praise For…
---
A masterclass in mysteries of the melancholic kind.
— Criminal Element on When Christmas Comes

Andrew Klavan is a superb entertainer, and his work has real substance. I look forward to his books like I looked forward to Christmas when I was a kid. 
— Dean Koontz

Andrew Klavan is the most original American novelist of crime and suspense since Cornell Woolrich.
— Stephen King

A STRANGE HABIT OF MIND is a great, hard-boiled-style novel that provides readers with an extremely satisfying look at modern-day San Francisco through the eyes of a protagonist who is quite different from most you encounter in the mystery genre.
— Book Reporter