Chalk: The Art and Erasure of Cy Twombly (Hardcover)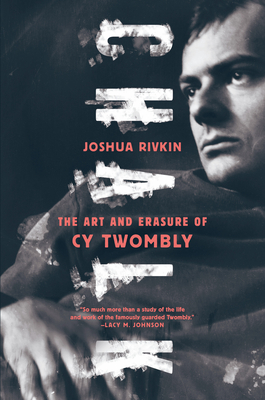 $32.00

If not in stock, we can Special Order from the publisher
Description
---
**A New York Times Editors Choice**

"The most substantive biography of the artist to date...propulsive, positive and persuasive."—Holland Cotter, New York Times Book Review

**PEN / Jacqueline Bograd Weld Award for Biography Finalist**

**A Marfield Prize Finalist**

Cy Twombly was a man obsessed with myth and history—including his own. Shuttling between stunning homes in Italy and the United States where he perfected his room-size canvases, he managed his public image carefully and rarely gave interviews. 

Upon first seeing Twombly's remarkable paintings, writer Joshua Rivkin became obsessed himself with the mysterious artist, and began chasing every lead, big or small—anything that might illuminate those works, or who Twombly really was. 

Now, after unprecedented archival research and years of interviews, Rivkin has reconstructed Twombly's life, from his time at the legendary Black Mountain College to his canonization in a 1994 MoMA retrospective; from his heady explorations of Rome in the 1950s with Robert Rauschenberg to the ongoing efforts to shape his legacy after his death.

Including previously unpublished photographs, Chalk presents a more personal and searching type of biography than we've ever encountered, and brings to life a more complex Twombly than we've ever known.
About the Author
---
Joshua Rivkin's poems and essays have appeared in The New Yorker, Slate, The Southern Review, The Virginia Quarterly Review, and Best New Poets. A former Fulbright Scholar in Rome, Italy, as well as a Stegner Fellow in poetry, he has received awards from the Sustainable Arts Foundation, Fine Arts Work Center in Provincetown, Bread Loaf Writers' Conference, and Ucross Foundation. He teaches creative writing for Stanford's Continuing Studies and lives in Salt Lake City.
Praise For…
---
"A valuable synthesis of what's been said and written about Twombly, and the author's lyrical analyses of Twombly's paintings are both lovely and insightful."—Andrew Martin, HARPER'S MAGAZINE 

"The book becomes a record of obsessive love without any outlet, dead ends, yearning — themes central to Twombly...[A] besotted, often very beautiful book." 
—Parul Sehgal, THE NEW YORK TIMES

"Refreshing ... a story well told."—Bridget Quinn, Hyperallergic 
 
"Fascinating…this biography unveils for the first time the many complexities of Twombly's artistic and personal life."—Edward Goldman, KCRW's Art Critic
 
"A long, haunted letter of unrequited love, and a meta-analysis of true biography's impossibility."—Catherine Lacey for THE PARIS REVIEW 
 
"Chalk is an illuminating book... a laudable effort to lift the veil on an artist of concealment."
—LOS ANGELES REVIEW of BOOKS
 
"Achieves unusual dimensionality by putting the experience of standing for many hours in front of Twombly's work together with travels to the places Twombly lived, and portraits of the people who surrounded him."—Rachel Cohen for BOMB
 
"Meticulous…in clear, precise prose… Rivkin goes to great lengths to understand Twombly's experience."—ENTROPY
 
"[A] rewarding excavation into the life of Cy Twombly... rich prose studded with flashes of poetry... [a] patient, loving exploration."—15 BYTES MAGAZINE
 
"For an art lover, collector, student or fan: utterly fascinating."—THE STANDARD-TIMES (MA)
 
"[A] passionate, prismatic biography…gripping and revelatory."—OPEN LETTERS REVIEW
 
"A creative portal into the life of the enigmatic, reclusive, modernist painter... Rivkin's first book—impeccably researched, lavishly and lovingly written, insightful and discerning—is a joy to read." 
—*starred* KIRKUS REVIEWS

"Rivkin brings his sensibility and prowess as a poet and essayist to this unusually reflective, stealthily dramatic inquiry into the enigmatic life and work of artist Cy Twombly... An extraordinarily involving, gorgeously written chronicle of art, controversy, fame, and the perils of biography."—*starred* BOOKLIST
 


"A singular reading experience"—SHELF AWARENESS

"An entertaining and insightful biography of the painter."—POETRY FOUNDATION


"[A] compelling biography/memoir…Rivkin's readings of the canvases provides as intimate encounter with the paintings as can be hoped for in print—and a valuable supplement to the catalogue (or, better yet, to a visit to the museum)…Indispensable."—JHIBLOG

"Reviled when young, revered when old, the elusive Twombly surprisingly emerges in this fascinating biography, which traces the difficulties of tracking down the man as thoroughly as it fills in the blurred, half-erased likeness. This is the record of a heroic journey of discovery." 
—acclaimed author and memoirist Edmund White

"Joshua Rivkin's sensitive eye and investigative ambition expand and enrich our understanding of Cy Twombly's genius in this tenderly rendered biography."
—Rachel Corbett, author of You Must Change Your Life

"So much more than a study of the life and work of the famously guarded Twombly. At once candid and tender, meditative and unsparing . . . this book is a gift to Twombly devotees and newcomers alike—as imbued with beauty, genius, and vitality as the artist's work that is its subject." —Lacy Johnson, author of The Other Side 
 
"Joshua Rivkin's revelatory Chalk performs an archaeology of a life and explores the layers below those we think we already know (or maybe those we never even dreamed existed)."
—R. Tripp Evans, author of Grant Wood: A Life

"This book is a network of glances, an architecture of mirrors and hallways, all in pursuit of a 'figure in the carpet'—the mysterious Twombly and the haunting scrawl of his beautiful paintings." —Alexander Nemerov, Chair of the Department of Art and Art History at Stanford University and author of Soulmaker: The Times of Lewis Hine