You Are Still Here: Zen Teachings of Kyogen Carlson (Paperback)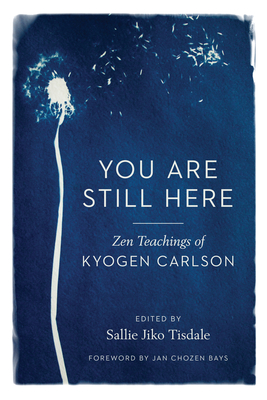 $19.95

On Our Shelves Now. Click on the title to see details.
Description
---
"There's so much to learn and so much to know. It's good to keep moving forward. And yet whatever we have is, in a very profound way, absolutely complete and always enough."—Kyogen Carlson
 
Kyogen Carlson (1948–2014) was a Soto Zen priest whose writings, teachings, and commitment to interfaith dialogue supported and inspired countless Buddhist, Christian, and other spiritual practitioners. Set to the rhythm of the seasons, You Are Still Here is the first published collection of Carlson's dharma talks. It illuminates key elements of contemporary Zen practice, such as the experience of zazen meditation, the pitfalls and intimacies of the teacher-student relationship and of sangha life, the role of community in personal practice, and the importance of interfaith dialogue reaching across political lines. Carlson's teachings also underscore his commitment to lay Buddhist practice and women's lineages, both significant contributions to American Buddhism. The beautifully distilled talks have been carefully edited and introduced by Sallie Jiko Tisdale, a respected writer, teacher, and Dharma heir to Carlson. Her masterful presentation highlights the significance of these illuminating teachings, while preserving Carlson's distinct style of authenticity, humor, and conviction on the Zen path.
About the Author
---
KYOGEN CARLSON was ordained as a Zen priest by Jiyu Kennett Roshi in 1974. In 1982, he moved to Portland, Oregon, to serve as a teacher at the Dharma Rain Zen Center. Kyogen held the role of Abbot (and later co-Abbot with his wife, Gyokuko) of the center for more than thirty years. He is the author of Zen in the American Grain: Discovering the Teachings at Home.

SALLIE JIKO TISDALE is the author of nine books, most recently Advice for Future Corpses (and Those Who Love Them). Her other books include Talk Dirty to Me, Stepping Westward, and Women of the Way. Violation, a collection of essays, was published in 2015. Her work has appeared in Harper's, Antioch Review, Conjunctions, Threepenny Review, The New Yorker, and Tricycle, among other journals.
Praise For…
---
"Kyogen gives it to us straight: Zen demands intense discipline, unwavering commitment, and deep faith, not only in the practice itself and in revered idealized figures like Dogen and the Buddha, but in an all-too-human teacher encountered in the midst of everyday life. This is Zen for grown-ups."—Barry Magid, author of Nothing Is Hidden: The Psychology of Zen Koans

"This book is the Recorded Sayings of Kyogen Carlson, Daiosho. He and his wife, Gyokuko Carlson Roshi, disciples of Jiyu-Kennett, founded Dharma Rain Zen Center in Portland, Oregon, one of the largest Zen centers in the United States. Like the classic Zen Mind, Beginner's Mind, this book is for the person who is a beginner on the path of Zen as well as the person who has been practicing for decades. Such a wonderful book. Please savor this rich feast of Kyogen Carlson's deep and accessible Dharma."—Shinshu Roberts, author of Being-Time: A Practitioner's Guide to Dōgen's Shōbōgenzō Uji