The Taming of the Demons: From the Epic of Gesar of Ling (Paperback)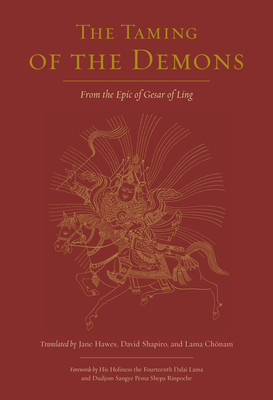 Description
---
A newly translated volume of the centuries-old spiritual epic of King Gesar.

For centuries, the epic tale of Gesar of Ling has been told across Asia. This epic is a living oral tradition, performed widely by singers and bards and beloved especially in Tibet. Considered the longest single piece of literature in the world canon, the epic of Gesar chronicles the legend of King Gesar of Ling, a heroic figure known for his fearless leadership. The epic encompasses some 120 volumes and nearly 20 million words, and there are numerous versions across cultures.

This book is the first English translation of the fourth volume of this sweeping literary work, with stories from after Gesar's coronation to the throne of Ling. This volume focuses on battles won and strategies applied, as the warrior-king Gesar fended off demons and liberated his foes. Though largely a violent account focused on his superhuman prowess in battle, this volume is rich with ethical proverbs that inform Tibetan culture to this day. A significant work of legend, the epic of Gesar is also a vital part of Tibetan Buddhism, as Gesar is said to have been chosen by celestial beings to restore order and destroy anti-Buddhist forces.

The epic of Gesar is the cultural touchstone of Tibet, analogous to the Iliad or the Odyssey. While Book One covers Gesar's birth, youth, and rise to power, this volume recounts the martial victories and magical feats that made him a legendary figure to so many.
About the Author
---
JANE HAWES became a student of Chögyam Trungpa Rinpoche in 1978 and now studies with Khen Namdrol Rinpoche. She began learning Tibetan in 1990 with the late Dr. Robin Kornman, and is part of the Light of Berotsana Translation Group.

DAVID SHAPIRO became a student of Chögyam Trungpa Rinpoche in 1973 and was the founder-director of the Milwaukee Dharmadhatu (now the Milwaukee Shambhala Center). He is a member of the Light of Berotsana Translation Group.

LAMA CHÖNAM is a Tibetan teacher who received twenty years of traditional training as a monk in Tibet. He is a translator and adviser to the Nalanda Translation Committee and a cofounder of Light of Berotsana.
Praise For…
---
"The Epic of Gesar of Ling is the life force of a distinct culture, containing so much that defines and distinguishes Tibetans. I hope this story brings delight to all who encounter it."—Dzigar Kongtrul, author of Peaceful Heart

"Not just for scholars and established aficionados of the Gesar epic, this translation is exciting and eminently accessible. I was loath to stop reading, and you will be too."—Natasha Mikles, author of The Power of Genres and the Project of Secularization: Publishing the Gesar Epic in Contemporary China

"The Gesar epic is a cultural treasure of ancient Tibet and an important contribution to our human civilization. I believe these stories bring heart and humanity into the modern world. I am delighted to see it in the English language."—Dza Kilung, author of The Relaxed Mind

"On the ultimate level, Gesar is none other than the great master Padmasambhava—intentionally manifesting as the magical display of a warrior being. Among the many editions of this great hero's stories of enlightened activities comes this English translation of The Taming of the Demons. I rejoice from the bottom of my heart that this is now made available."—Chakung Jigme Wangdrak, founder of The Abhaya Fellowship

"A joy to read."—Buddhistdoor Global