Secularizing Buddhism: New Perspectives on a Dynamic Tradition (Paperback)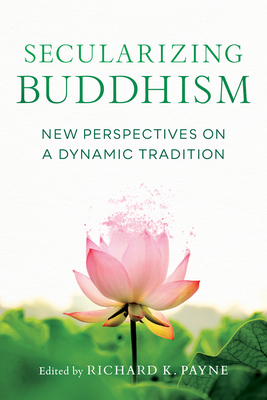 $24.95

On Our Shelves Now. Click on the title to see details.
Description
---
A timely essay collection on the development and influence of secular expressions of Buddhism in the West and beyond.

How do secular values impact Buddhism in the modern world? What versions of Buddhism are being transmitted to the West? Is it possible to know whether an interpretation of the Buddha's words is correct?

In this new essay collection, opposing ideas that often define Buddhist communities—secular versus religious, modern versus traditional, Western versus Eastern—are unpacked and critically examined. These reflections by contemporary scholars and practitioners reveal the dynamic process of reinterpreting and reimagining Buddhism in secular contexts, from the mindfulness movement to Buddhist shrine displays in museums, to whether rebirth is an essential belief.

This collection explores a wide range of modern understandings of Buddhism—whether it is considered a religion, philosophy, or lifestyle choice—and questions if secular Buddhism is purely a Western invention, offering a timely contribution to an ever-evolving discussion.

Contributors include Bhikkhu Bodhi, Kate Crosby, Gil Fronsdal, Kathleen Gregory, Funie Hsu, Roger R. Jackson, Charles B. Jones, David L. McMahan, Richard K. Payne, Ron Purser, Sarah Shaw, Philippe Turenne, and Pamela D. Winfield.
About the Author
---
RICHARD K. PAYNE is the Yehan Numata Professor of Japanese Buddhist Studies at the Institute of Buddhist Studies in Berkeley, California. Richard is active in the fields of Japanese Buddhist studies and ritual studies. He also serves as editor-in-chief of the Institute's annual journal, Pacific World, and is chair of the Editorial Committee of the Pure Land Buddhist Studies Series.
Praise For…
---
"Thoughtful and engaging at every turn, this volume is indispensable for anyone who wants to investigate—and move beyond—the dualities that shape our understandings of Buddhism. Readers may well discover themselves to be both more and less secular than they once assumed."—Chenxing Han, author of Be the Refuge: Raising the Voices of Asian American Buddhists

"This volume provides a much-needed critical treatment of the multiple 'secularizing Buddhism' processes and projects underway in global Buddhism. Exploring a range of contexts from the Pāli canon to Pure Land Buddhism, the museum to the mindfulness movement, these authors clearly illuminate the complicity between secularization and colonialism, racism, and neoliberalism. Secularizing Buddhism makes two important intellectual and ethical interventions: It identifies the ethnocentric, racialized violence that occurs when the secular is constructed as binary other and developmentally superior to the religious. It also suggests how the relationship between the two can be reconfigured in more fluid, dynamic, and context-sensitive ways."—Ann Gleig, author of American Dharma: Buddhism Beyond Modernity

"As Buddhadharma and Buddhist practice are transmitted to the West and as Buddhism engages with modernity, Buddhist ideas, practices, and commitments are adapted and transformed. This fascinating collection of essays by some of the leading scholars of contemporary Buddhism explore the complex interaction of Buddhism with the modern world. This volume will be a valuable resource for practitioners, scholars, and anybody interested in the present and future of Buddhism and in the contributions it can make to our world."—Jay Garfield, author of Engaging Buddhism: Why It Matters to Philosophy

"Utilizing but not bound by slippery dichotomies such as secular vs religious, modern vs traditional, and West vs East—taking them instead as 'semiotic pairs' or, to use a more traditional Buddhist concept, as 'non-dual'—the essays in this fine collection explore various facets of Buddhism in contemporary society. From mindfulness in the schools to Buddhist art in museums, from controversies over rebirth to 'immanent' Buddhism and more, Secularizing Buddhism provides a thoughtful mosaic of our ever-evolving situation."—Paul L. Swanson, author of Nanzan Guide to Japanese Religions

"This volume paints a nuanced picture of the dynamic changes that Buddhism is undergoing globally. . . . Ultimately, this collection gives Buddhists of all stripes more common ground for productive conversations that steer clear of dogmatism."—Buddhadharma