Life, Part Two: Seven Keys to Awakening with Purpose and Joy as You Age (Paperback)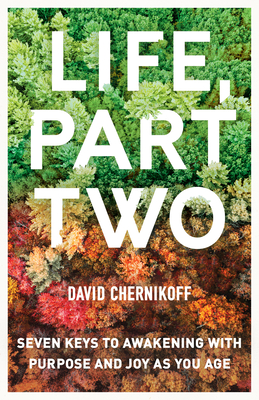 Description
---
A guide to seven essential elements that will illuminate your path to spiritual realization and wise elderhood.

What Carl Jung called "the second half of life" has the potential to be a remarkable curriculum for insight and awakening. When wisely understood, the changes inherent in the aging process become stepping-stones to the actualization of our best human qualities: wisdom, lovingkindness, compassion, joy, and equanimity.

Author David Chernikoff has spent decades pursuing spiritual study and practice with remarkable teachers, including Ram Dass, Jack Kornfield, Sharon Salzberg, Father Thomas Keating, and Reb Zalman Schachter-Shalomi. In Life, Part Two, he distills lessons from across contemplative traditions to invite readers to embrace seven essential elements of conscious living: embracing the mystery, choosing a vision, cultivating intuitive wisdom, committing to inner work, suffering effectively, serving from the heart, and celebrating the journey. These elements culminate in wise elderhood--a state celebrated by indigenous cultures around the world, yet largely unacknowledged in contemporary Western society. For those of us who aspire to live fully and to love well as we age, Life, Part Two is a lucid guidebook that empowers us to personally thrive and to contribute with ever greater clarity and purpose.
About the Author
---
David Chernikoff began practicing yoga and meditation in 1971, after which his life story reads like a greatest-hits of modern spiritual teachers. He trained as a yoga teacher with Swami Satchidananda, studied with Chögyam Trungpa Rinpoche, and deepened his commitment to meditation practice with Joseph Goldstein, Jack Kornfield, and Sharon Salzberg. This led him to begin teaching insight meditation in the late 1980s. He was also greatly influenced by Ram Dass, whose teaching inspired him to work with dying people at the Dying Center in Santa Fe and in hospice programs. Because of his passion for interspiritual  dialogue, he met and was mentored by Father Thomas Keating for many years, and worked closely with Reb Zalman Schachter-Shalomi at the Spiritual Eldering Institute. Chernikoff trained with Thrangu Rinpoche and other Tibetan teachers during a three-year stay in Nepal, and then returned to the U.S. to begin a long stint of teaching in the transpersonal psychology program at Naropa University in Boulder. During that time, he became one of the guiding teachers of the Insight Meditation Community of Colorado. Currently, he teaches retreats and workshops throughout the U.S. and has a private practice as a spiritual counselor and life coach. For more information, please see www.davidchernikoff.com.
Praise For…
---
"David offers a wise and loving vision for a gracious later life, full of many favorite stories and helpful teachings."—Jack Kornfield, author of A Path with Heart

"David Chernikoff offers a fresh, straightforward approach that unites living fully, becoming a wise elder, and conscious dying."—Frank Ostaseski, author of The Five Invitations: Discovering What Death Can Teach Us About Living Fully

"Have you considered looking deeply at what life and death are about? In Life, Part Two, David Chernikoff shares a world of reflection, contemplation, and curiosity. The book offers insight into life and in turn supports the idea of a peaceful approach to the end of life. Separately, each chapter is a stepping stone, and all together they show a path to graceful aging and acceptance."—Sharon Salzberg, author of Lovingkindness and Real Change

"By sharing his own life journey with candor, generosity, and inclusivity, David Chernikoff has provided an inviting overview for anyone facing the question, 'What should I do now to reinspire my life?'—a classic 'midlife' question for any decisive endpoint in a life, whether it is a diagnosis, a divorce, a bereavement. Chernikoff's voice is endearing. You will feel as if you've met a friend."—Sylvia Boorstein, author of Happiness Is an Inside Job and Don't Just Do Something, Sit There

"Life, Part Two reminds us that there is still time to become the person we were meant to be. David Chernikoff's Buddhist message is exactly what we need at a moment when we are looking for realistic hope for the second half of life."—Harry R. Moody, author of Aging: Concepts and Controversies

"I have been waiting for this book, and it's as good as I hoped. David Chernikoff distills wisdom from his decades studying and practicing Buddhism and other contemplative traditions, depicting the wise elderhood that our culture so needs."—David Loy, author of Ecodharma: Buddhist Teachings for the Ecological Crisis

"Growing older is often seen as something to dread or stoically accept. What if instead of resignation we could approach it with a spirit of adventure, opening to the next chapter of our life with celebration and discovery? Life, Part Two gives us a roadmap to do just that. As a leading teacher in the field of conscious aging, David Chernikoff has synthesized a lifetime exploring wisdom teachings into his own profound recipe for aging gracefully. Filled with engaging stories, including his personal journey, Chernikoff shows how to not just get through this stage of life but to thrive in the process."—James Baraz, author of Awakening Joy: 10 Steps to Happiness

"Readers feeling unmoored after a certain age can take in much from this contemplative take on finding connection and purpose."—Publishers Weekly

"A compassionate, harmonious work."—Mindful

"A powerful book. . . . A wise and compassionate guide to becoming an elder."—Paradigm Explorer