Search for Books
ABA Mobile Menu
Erotic Love Poems from India: 101 Classics on Desire and Passion (Paperback)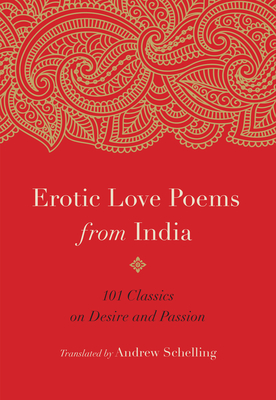 Description
---
The poets of classical India regarded love as the first and deepest of passions. Translator and scholar Andrew Schelling perfectly encapsulates the history and passion of eighth-century India in this collection.

"A single stanza of the poet Amaru," declared a ninth-century poetry critic, "may provide the taste of love equal to what's found in whole volumes." Graceful and yet remarkably playful, intensely passionate, and at times hinting of divine transcendence, the poems translated here offer poignant glimpses into the many faces of erotic love. This collection, known in Sanskrit as the Amarushataka ("One Hundred Poems of Amaru"), was compiled in the eighth century and remains to this day one of India's finest collections of love poetry. Legend connects the poetry's authorship to King Amaru of Kashmir, while present-day scholars generally consider it an anthology of the verses of many poets.
About the Author
---
ANDREW SCHELLING has authored or edited over twenty books, including original and translated poetry and collections of essays. His translations of India's classical poetry appear in numerous anthologies. The Academy of American Poets honored him with the Harold Morton Landon Translation Award in 1992 for his Dropping the Bow: Poems from Ancient India. He has received two translation grants from the Witter Bynner Foundation for Poetry, and his own poetry has been translated into French, German, Spanish, and Dutch. Since 1990 he has taught at Naropa University's Jack Kerouac School of Disembodied Poetics in Boulder, Colorado.