Search for Books
ABA Mobile Menu
Touching the Infinite: A New Perspective on the Buddha's Four Foundations of Mindfulness (Paperback)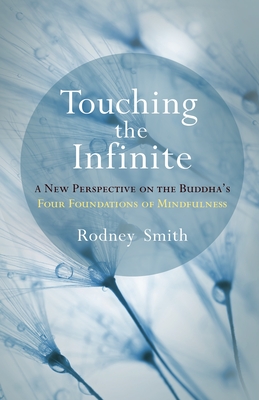 List Price: $16.95
Our Price: $8.98
(Save: $7.97 47%)
On Our Shelves Now. Click on the title to see details.
Description
---
An Insight Meditation teacher explores the Four Foundations of Mindfulness, an essential teaching that transcends all Buddhist traditions and provides a path to true liberation

Awakening manifests through the application of mindfulness to four areas: body, feelings, mind, and dharmas. Buddhists of all the traditions share this foundational principle, which is defined in the Satipatthana Sutta and has been expounded upon since the time of the Buddha himself. 
 
In Touching the Infinite, Rodney Smith guides readers through the Four Foundations to provide a solid understanding of the teaching. He goes on to challenge us to hold this teaching up against our own experience—and in doing so, to discover the inherent interconnection of all Four Foundations. They are a sequential path that reveal the true nature of things, leading the practitioner to the perception of the formless and then back to daily life infused with that great freedom. The Four Foundations of Mindfulness thus serve as a road map for any genuine spiritual path.
About the Author
---
Rodney Smith has recently retired as a guiding teacher for the Insight Meditation Society and from the Seattle Insight Meditation Society, which he founded in 1993.  He is the author of Lessons from the Dying, Stepping Out of Self-Deception: The Buddha's Liberating Teaching of No-Self, and Awakening: A Paradigm Shift of the Heart.  
Praise For…
---
"I highly recommend Rodney Smith's book Touching the Infinite. His explanations are interesting, lucid and practical. The Four Foundations of Mindfulness are, in themselves, a most important guide to the realization of the Dhamma. I congratulate Rodney on his excellent work."—Ajahn Sumedho, author of The Sound of Silence and The Way It Is

"Rodney Smith shares the beautiful fruits of his many decades of devoted practice of the Buddha's teachings. Touching the Infinite freshly unpacks the instructions on touching the true nature of reality through developing an intimate relationship with the living components of our own direct, moment-to-moment experience. Seekers of system updates for dharma in the 21st century will find much fulfillment in this book, which has been written from the heart in a voice that is delightfully creative."—Dzogchen Ponlop, author of Rebel Buddha

"Touching the Infinite is a subtle in-depth re-reading of the Mindfulness Sutra expanding the horizons of mindfulness beyond self, beyond mind, all the way out to the ineffable and the sacred. As a Zen practitioner, I am struck by the consonance of these teachings with Zen. Thoughtful and provocative, Rodney's words free us from the self-clinging inherent in so many of our received ideas about Dharma. Especially helpful are his many meditational thought-experiments, that bring his message home." —Norman Fischer, author of Experience: on Thinking, Writing, Language and Religion and What Is Zen? Plain Talk for a Beginner's Mind