Search for Books
ABA Mobile Menu
The Awakening Body: Somatic Meditation for Discovering Our Deepest Life (Paperback)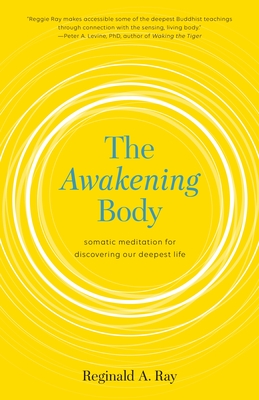 $16.95
Special Order from the publisher
Description
---
A senior Buddhist teacher offers fundamental body-based meditation practices that prove enlightenment is as close to you as your own body

Many of us experience life through so many conceptual filters that we never recognize the freedom and joy that are inherent in us—and are in fact the essence of who we are. We can grow old not realizing that one of the most powerful tools to escape the painful knots we tie ourselves in is, literally, at our fingertips: our body. 
 
With The Awakening Body, Reggie Ray cracks open the shell of the mind-body dichotomy and presents six fundamental body-based practices that connect us back to who we really are. These practices cut through the mental fabrications through which we experience our world and lead us directly to the richness of living a fully present, embodied human life.

This book includes a link to free downloads of recorded guided practices.
About the Author
---
DR. REGINALD "REGGIE" RAY is the co-founder and Spiritual Director of the Dharma Ocean Foundation, dedicated to the evolution and flowering of the somatic teachings of Tibetan Buddhism. He is a lineage holder in the tradition of Chögyam Trungpa Rinpoche. Reggie is the author of several books--including Indestructible Truth and Secrets of the Vajra World-- as well as and audio programs--including Mahamudra for the Modern World. He makes his residence in Crestone and Boulder, Colorado.
Praise For…
---
"Reggie Ray makes accessible some of the deepest Buddhist teachings through connection with the sensing, living body. This book will be a companion and practical guide to all those interested in discovering the wisdom of the body, whether beginners or longtime meditators."—Peter A Levine, PhD, author of Waking the Tiger
 
"A powerful book that brings the body fully into awakening."—Roshi Joan Halifax, Abbot, Upaya Zen Center
 
"Reggie Ray's decades of practice, study, and teaching shine through The Awakening Body.  For those drawn to somatic practice, this is an essential guide. The re-contextualization of ancient and deep understandings makes them highly accessible for the modern practitioner.  Reggie has become so familiar with these esoteric practices that he can explain them quite simply, revealing their true purpose for all who wish to engage them."—Sharon Salzberg
 
"The Awakening Body is a vital resource for practitioners of all movement disciplines to plumb the depths of their somatic interior. I think this book will be a tremendous resource for those wanting to yoke to their innermost breath and pulse in order to become clear sentient beings, wide awake in the world."—Tias Little, author of Yoga of the Subtle Body
 
"The Awakening Body is an unusual book. It offers detailed somatic practices (meant to be accompanied by guided meditations offered online) for awakening to the vastness within—beyond thinking and conceptualization. As a Zen practitioner, much of this sounds familiar to me, but this practice is clearer and more detailed than typical suggestions offered in Zen. Reggie Ray has spent a lifetime working on somatic techniques, both in and out of Vajrayana Buddhism, and has distilled what he has learned into a concrete methodology. This book is of interest to those who would want to devote themselves to its practice—as well as those seeking illumination for their own meditation.—Zoketsu Norman Fischer, Zen priest and poet, co-author of What Is Zen?: Plain Talk for a Beginner's Mind
 
"Reginald Ray is illuminating an essential point for our happiness, healing, and transformation in this priceless book. He clearly and profoundly shows us the importance of the spirituality of the body and how to practice in a way that can be integrated into everyday life. This is an eloquent expression of his work that has already helped many people."—Anam Thubten, author of Embracing Each Moment and No Self, No Problem