Search for Books
ABA Mobile Menu
Finding Freedom in Illness: A Guide to Cultivating Deep Well-Being through Mindfulness and Self-Compassion (Paperback)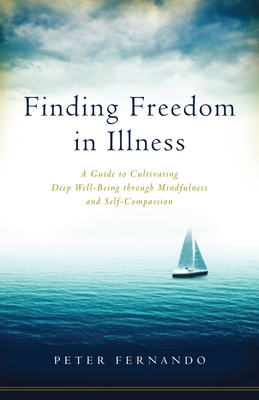 List Price: $18.95
Our Price: $8.98
(Save: $9.97 53%)
On Our Shelves Now. Click on the title to see details.
Description
---


Buddhist wisdom for finding freedom and insight through spiritual practice in the midst of illness and pain.

"Let your illness be your spiritual teacher!" Make a statement like that to someone who's struggled for years with, say, rheumatoid arthritis, and be prepared for an eyeroll (at best). To Peter Fernando's credit, he makes that statement, and no such impulse arises. We believe him because he's been there himself and because he backs up the statements with his own real experiences and with real wisdom from the Buddhist teachings. Peter starts by defusing the pernicious belief that anyone is somehow responsible for their illness: You're not "wrong" for being sick. Then, having gotten past self-blame, one can begin to learn self-kindness. From there, one moves to mindfulness practices and cultivating body awareness--even if body awareness is distasteful when the body isn't behaving the way you like. Further topics include getting intimate with dark emotions (fear, despair, the scary future, frustration, grief, etc.), learning equanimity (rejoicing in the good fortune of those who don't share your suffering), cultivating healthy relationships in the midst of everything, and practical advice for living with pain. Each chapter comes with one or more practices or guided meditations for putting the teachings into practice.
About the Author
---
PETER FERNANDO is cofounder of Original Nature Meditation Centre in Wellington, New Zealand. He was a monk in the Thai Forest tradition at Abhayagiri Monastery in Ukiah, California, where he trained under Ajahn Passano and Ajahn Amaro. He's currently a student of Sharda Rogell and Ajahn Sucitto. A longtime sufferer of chronic pain and various health problems himself, he's been working with others in that situation since 2009 on an individual basis in Wellington and Auckland and in groups regularly at the Wellington Multiple Sclerosis Society. He works with Berkeley-based Insight Meditation teacher James Baraz on a project called Insight through Illness, an online community of support for those addressing chronic illness through meditation: www.insight-illness.com.
Praise For…
---
"It is rare when a subject as difficult as illness is so thoroughly embodied that it becomes a gateway to the sacred. It is also exceptional when someone has the wisdom and skill to navigate the reader through that same portal. Peter Fernando's book, Finding Freedom in Illness, does both with such clarity and skill that it leaves the reader determined to use his/her whole life for the same purpose." -Rodney Smith, author of Stepping Out of Self-Deception and Awakening: A Paradigm Shift of the Heart 
 
"Meditation, and Awakening, is generally linked to sitting upright for long stretches of time, despite the fact that all of us some of the time (and some of us much of the time) can't physically manage to do so. This book, based on Peter's field-work with his own chronic illness, addresses that conundrum. But it's not just for 'sick people': we are all of the nature to sicken, and by taking that into account, we can develop a practice for the 'bad' times as well as the 'good'." –Ajahn Sucitto, author of Turning the Wheel of Truth
 
"Finding Freedom in Illness is a beautiful book to read. Its simplicity and wisdom touches the heart and teaches the head to listen to the workings of the mind and open into our own thoughts and feelings with presence. The guided meditations can be used immediately to open heart and mind.  This is a book to keep beside you and to read and learn from again and again."—Elana Rosenbaum, author of Being Well (Even When You're Sick): Mindfulness Practices for People with Cancer and Other Serious Illnesses