Search for Books
ABA Mobile Menu
The Logic of Faith: A Buddhist Approach to Finding Certainty Beyond Belief and Doubt (Paperback)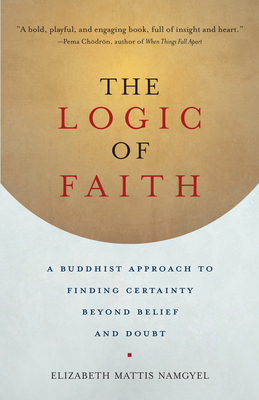 List Price: $16.95
Our Price: $9.98
(Save: $6.97 41%)
On Our Shelves Now. Click on the title to see details.
Description
---
A popular American Buddhist teacher explores the creative relationship between faith and doubt, knowing and not-knowing, and shows how an awakened life results from living from the place in between.

Faith is a thorny subject these days.  Its negative expressions cause many to dismiss it out of hand--but Elizabeth Mattis Namgyel urges us to reconsider, for faith is really nothing but our natural proclivity to find certainty in a world where certainty is hard to come by.  And if we look carefully, we'll discover that the faith impulse isn't separate from reason at all—faith and logic in fact work together in a playful and dynamic relationship that reveals the profoundest kind of truth—a truth beyond the limits of "is" and "is not." Using the traditional Buddhist teachings on dependent arising, Elizabeth leads us on an experiential journey to discover the essential interdependence of everything--and through that thrilling discovery to open ourselves to the whole wonderful range of human experience.
About the Author
---
ELIZABETH MATTIS NAMGYEL is the wife and a principal student of Tibetan Buddhist master Dzigar Kongtrül and the editor of two of his books (It's Up to You and Light Comes Through). She has studied and practiced in the Tibetan Buddhist tradition for more than thirty years under his guidance and completed years of solitary retreat. As a Buddhist teacher, she leads weekend retreats throughout the United States and Europe.
Praise For…
---
"There is joy in discovering the truth of the Buddhist teachings as a living experience. Elizabeth Mattis-Namgyel takes us on a personal exploration of the Buddha's most essential insight:  pratityasamutpada—a.k.a. dependent arising. A bold, playful, and engaging book, full of insight and heart"—Pema Chödrön, author of When Things Fall Apart and Living Beautifully

"The Logic of Faith looks into how we tend to seek comfort in ideas, even though they can't provide real comfort. Elizabeth  beautifully illuminates  the possibility of getting free from the prison of our ideas, by softening into uncertainty and developing real faith. A rich and helpful book"—Sharon Salzberg, author of Lovingkindness and Real Love

"I welcome The Logic of Faith with both excitement and relief.  To generations of Western practitioners habituated to linear thinking, the Buddha's central teaching of pratityasamutpada has remained a hidden jewel, taken as either too obvious to be interesting (as "everything has a cause") or too arcane to be relevant to real life.  Elizabeth Namgyel not only grasps, but conveys with fresh immediacy and delight the essence of this key to the dharma.  She helps us to experience the reciprocity at the heart of the universe--and, in so doing, to rediscover our mutual belonging and the sheer grace of our existence."—Joanna Macy, author of Coming Back to Life and World as Lover, World as Self
 
"The Logic of Faith  by Elizabeth Mattis-Namgyal is a book that Americans who identify as spiritual-but-not religious and also those who are practicing people of faith will find helpful. Elizabeth explores not only faith but also grace, as a person who has relentlessly pursued truth and understanding throughout her entire adult life. As a contemporary American who has devoted herself to the most profound teaching and practices of Tibetan Buddhism, she is uniquely poised to translate esoteric and subtle insights into language that is accessible and inviting. Elizabeth's language is direct and her style is friendly—as it is with the most helpful writers in the area of spirituality and religion, reading Elizabeth's book is like sitting down for a conversation with a good friend, exploring together areas of great mutual interest. I believe you will find The Logic of Faith a deceptively simple book of real significance. "—Rt. Rev. Marc Andrus, Bishop of the Episcopal Diocese of California
 
"The beauty of this book by Elizabeth Mattis Namgyel lies in its remarkably creative presentation of this insight of dependent arising. Constantly relating to our everyday experience and gently guiding through a series of self-inquiry, as well as drawing on insights from contemporary science, psychology, as well as literature, the author brings this fundamental insight of the Buddha come to life for the contemporary reader."—Thupten Jinpa, author of A Fearless Heart: How the Courage to Be Compassionate Can Transform Our Lives
 
"Elizabeth Mattis Namgyel presents the central Buddhist principle of pratītyasamutpāda, or dependent arising, in a way that is completely original.  She successfully combines the spirit and authenticity of the Buddha's teachings with the language and mindset of the twenty-first century."—Dzigar Kongtrul, author of  It's Up to You and The Intelligent Heart

"Namgyel's handling of a complex, potentially intimidating topic is exquisite, and students of all levels will find something useful in her teaching."—Publishers Weekly (starred review)