An Open-Hearted Life: Transformative Methods for Compassionate Living from a Clinical Psychologist and a Buddhist Nun (Paperback)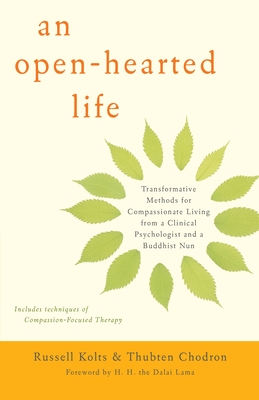 List Price: $24.95
Our Price: $9.00
(Save: $15.95 64%)
On Our Shelves Now. Click on the title to see details.
Description
---

A beloved Buddhist teacher and a psychologist specializing in Compassion-Focused Therapy (CFT) provide practical methods for living a life filled with compassion.

     A life overflowing with compassion. It sounds wonderful in theory, but how do you do it? This guide provides practical methods to living with this wonderful quality, based on traditional Buddhist teachings and on methods from modern psychology--particularly a technique called Compassion-Focused Therapy (CFT). The methods presented by the two authors--a psychotherapist and a Tibetan Buddhist nun--turn out to have a good deal in common. In fact, they complement each other in wonderful ways. Each of the 64 short chapters ends with a reflection or exercise for putting compassion into practice in various life situations.
About the Author
---
RUSSEL KOLTS, PhD, is a licensed clinical psychologist, a professor at Eastern Washington University, and the founder of the Inland Northwest Compassionate Mind Center. He regularly conducts trainings and workshops on Compassion-Focused Therapy. He is the author of The Compassionate Mind Approach to Managing Your Anger Using Compassion-Focused Therapy.

THUBTEN CHODRON, an American-born Tibetan Buddhist nun, is the founder and abbess of Svastri Abbey in Newport, Washington. She teaches and leads retreats throughout the world. She is the author of numerous books, including Buddhism for Beginners; Open Heart, Clear Mind; and Don't Believe Everything You Think.
Praise For…
---
"A collection of reflections on the practice of compassion in everyday life that provides a recipe for a deeper life and a better world. It is written with minds and hearts wide open."―Daniel Gilbert, Harvard University, author of Stumbling on Happiness

"An Open-Hearted Life offers a powerful synergy of wisdom and practical instruction drawn from Russell Kolts' deep experience with Compassion Focused Therapy and from Ven. Thubten Chodron's lifetime committed to Tibetan Buddhist practice."―Sharon Salzberg, author of Real Happiness and Lovingkindness

"This wonderful book is easy and enjoyable to read, consisting of deep insights into the meaning of compassion and straightforward practices designed to help cultivate an open heart."―Kristin Neff, PhD, Professor of Educational Psychology, University of Texas at Austin

"With beautifully clear language and examples, the authors show how to make compassion an easy and central part of our lives. Allow this book to work on you, reading it slowly and gently practicing what you learn. It will heal your heart."―Christopher Germer, PhD, author of The Mindful Path to Self-Compassion and clinical instructor at Harvard Medical School

"Bringing Buddhist teachings into partnership with the techniques and insights of contemporary psychotherapy, the authors offer valuable guidelines to living a life with a truly open heart."―Thupten Jinpa, PhD, author of Essential Mind Training