The Tibetan Yoga of Breath: Breathing Practices for Healing the Body and Cultivating Wisdom (Paperback)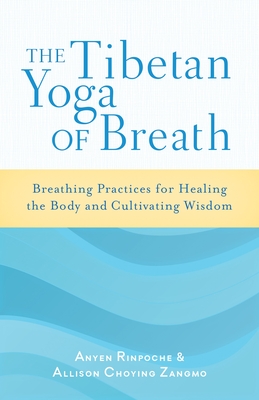 Description
---
Heal the body, quiet the mind, and find emotional balance with simple practices from Tibetan Yantra Yoga.

Vibrance, good health, and longevity have one thing in common--they all begin with the breath. Modern science and classic spiritual traditions agree: regulating the breath leads to radiance and wellness in the body, mind, and spirit.
     The Tibetan Yoga of Breath pairs the teachings of Tibetan Yantra Yoga (breathing yoga) with select contemplative ideas and practices and examines how well they complement each other through the lens of Western medical science. The benefits of proper breathing are offered from the point of view of classical Indian/Tibetan practice, and contemporary medical research supports how breath cultivates physical, emotional, and spiritual health. Basic Yantra Yoga techniques--also called wind energy training--are the key practices for achieving this vitality, down to the cellular level.
About the Author
---
ANYEN RINPOCHE is a tulku from Tibet of the Nyingma (Longchen Nyingthig) tradition. He lives primarily in Denver, Colorado, where he founded Orgyen Khamdroling Center with a shedra (college) for Westerners. He is the author of The Union of Dzogchen and Bodhichitta, Dying with Confidence, Journey to Certainty, and Momentary Buddhahood.

ALLISON CHOYING ZANGMO is Anyen Rinpoche's personal translator and a longtime student of both Rinpoche and his root lama, Kyabje Tsara Dharmakirti. She has either translated or collaborated with Rinpoche on all of his books. She lives in Denver, Colorado.
Praise For…
---
"The Tibetan Yoga of Breath offers a highly accessible introduction to Buddhist teachings on the physical, mental, and wisdom energy waves of the breath. This rare book meticulously guides readers on how to awaken and perfect the power of innate energy to heal and enlighten." —Tulku Thondup, author of Boundless Healing   

"These clear and practice-based teachings on purifying the wind energies are much-needed medicine for our times. Rooted in the ancient wisdom of dharma and an understanding of modern science, the yogas of the body, wind energy, and mind are presented in a fresh, lively prose that is a delight to read. This rare medicine is precious and if sincerely practiced, can lead to well-being and glimpses of our ever-present wisdom mind and joyful heart." —Tsoknyi Rinpoche 

"Anyen Rinpoche is a compassionate embodiment of wisdom. The skillful teachings in The Tibetan Yoga of Breath will be a source of peace and happiness for many in these troubled times, for which I am very grateful."—Garchen Rinpoche