Testimonies for the Church Volume 4 (Hardcover)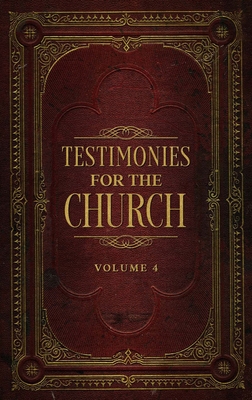 $29.43

NOT on our shelves - Usually Ships in 1-5 Days
Description
---
This fourth volume of counsel to members of the Seventh-day Adventist Church spans the last seven years of James White's life, from 1875 to 1881. With the work of the church under rapid expansion, Elder and Mrs. White traveled extensively. They also wrestled with the problems of the expanding institutional work.
As the missionary work in Europe made good progress, church members came to a better and better understanding of the worldwide nature of the church. During the times of volume 4, the Signs of the Times magazine was successfully started, Pacific Press Publishing was established, and the second denominational sanitarium (St. Helena) opened its doors. To complement the increased publishing facilities, new books were also written on a wide variety of topics, including prophecy and other Bible subjects, health, temperance, and children's books. Missionary colporteurs were employed to take books from door to door, while the church body as a whole worked to support them in literature distribution.
During the era covered by volume 4, Seventh-day Adventist camp meetings were also started. Within a decade of the first camp meeting in 1868, a number of annual camp meetings sprang into existence. Much publicity attended these camp meetings, so that gatherings that began with a few hundred Adventists would end the week with several thousand interested non-Adventist listeners. Camp meeting attendance reached its peak in 1876, when, in a camp meeting held near Boston, twenty thousand people crowded onto the campground one weekend. On Sunday afternoon of that gathering, Ellen White addressed a crowd of 15,000 listeners.
A stronger temperance work, an enlarged medical work, the construction of the large "Dime Tabernacle" in Battle Creek, Michigan, and considerable church growth also took place during this period. In Battle Creek, the "Good Health" journal, which enjoyed "largest circulation of any health journal in America," was also established. Meanwhile, Battle Creek College was established and grew to an enrollment of nearly 500 students by 1881.
During this time of progress and change, Ellen White continued to write counsel to church members. Topics covered in this volume include appetite control, family discipline, fairness in business dealings, self-control, marriage, dress, simplicity in dress, and worldliness. Despite the passage of time, It is not strange, then, that the large part of volume 4 deals with such practical topics as "Appetite," "Family Discipline," "Self-Control," "Uprightness in Deal," "Sacredness of Vows," "Unscriptural Marriages," "Simplicity in Dress," "Love of the World," "Preparation for Christ's Coming," and a score of other vital subjects. These were some of the messages which served to reform, correct, and purify the church in these earlier years.