Jews Queers Germans: A Novel/History (Paperback)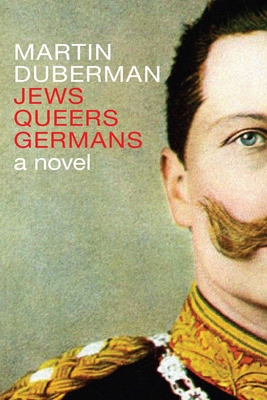 $19.95
Email or call for price.
Description
---
A breathtaking historical novel that recreates the intimate milieu around Germany's Kaiser Wilhelm from 1907 through the 1930s, a period of great human suffering and destruction and also of enormous freedom and creativity, a time when the remnants and artifices of the old word still mattered, and yet when art and the social sciences were pirouetting with successive revolutions in thought and style. 

Set in a time when many men in the upper classes in Europe were gay, but could not be so publicly, Jews Queers Germans revolves around three men: Prince Philipp von Eulenburg, Kaiser Wilhelm II's closest friend, who becomes the subject of a notorious 1907 trial for homosexuality; Magnus Hirschfeld, a famed, Jewish sexologist who gives testimony at the trial; and Count Harry Kessler, a leading proponent of modernism, and the keeper of a famous set of diaries which lay out in intimate detail the major social, artistic and political events of the day and allude as well to his own homosexuality. The central theme here is the gay life of a very upper crust intellectual milieu that had a real impact on the major political upheavals that would shape the modern world forever after.
About the Author
---
Distinguished Professor of History Emeritus, CUNY. MARTIN DUBERMAN is the author of some two dozen books, including Paul Robeson; Cures; Black Mountain; the novel Haymarket (a Seven Stories book); Howard Zinn; Stonewall; and Hold Tight Gently. Duberman is the recipient of numerous awards, including the Bancroft Prize, the Vernon Rice Drama Desk Award (for his play In White America), three Lambda Literary Awards, a Special Award from The National Academy of Arts and Letters for his "contributions to literature," the 2007 Lifetime Achievement Award from the American Historical Association, and the Whitehead Lifetime Achievement Award in Non-Fiction. He has also been a Finalist for both the National Book Award (for James Russell Lowell) and the Pulitzer Prize (for The Worlds of Lincoln Kirstein). In 2012 Amherst College awarded him an honorary degree, Doctor of Humane Letters.
Praise For…
---
"Riveting. Stunning. By turns exhilarating and harrowing. At the height of his imaginative and interpretive powers, award-winning author Martin Duberman elaborates the rich, complex promises and perils of German life and politics in advance of World Wars I and II, with ghostly echoes reverberating across the Atlantic to this very day." —John Howard, author of White Sepulchres and Men Like That

"With a bold, grand vision and an unparalleled grasp of the endless details that make up the arc of history, Martin Duberman elucidates and illuminates how sex, art, hatred, violence, and intrigue shape a national politic. His sprawling canvas here—populated by Kaiser Wilhelm II, Isadora Duncan, Magnus Hirschfeld, and Ernst Röhm among many others—is late nineteenth century to pre–World War II Germany. The implications and resonances of this story are, however, frighteningly contemporary. Sweeping and poetic, minutely observed and realistic, Jews Queers Germans is a brilliant window to the past that shows us the present and possibly the future." —Michael Bronski, author of A Queer History of the United States and Professor of Practice in Media and Activism at Harvard University

"In the new and daring novel/history Jews Queers Germans, Martin Duberman unleashes his awesome powers to tell a story of friendship, friction, and the flourishing of homosexual relationships during the belle époque.  Focusing on Kaiser Wilhelm of Germany and his closest friends, Duberman's creative narrative allows us to eavesdrop on some of what might have been their private conversations while we also witness rising public intolerance toward Jews and queers in Germany. As always, Duberman engages and illuminates the past brilliantly while providing guidance for the present." —Marcia M. Gallo, author of "No One Helped": Kitty Genovese, New York City, and the Myth of Urban Apathy