Infidels: A Novel (Hardcover)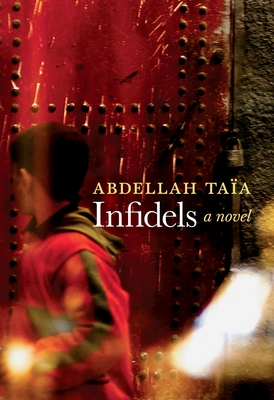 $23.95

If not in stock, we can Special Order from the publisher
Description
---
Set in Salé, Morocco—the hometown Abdellah Taïa fled but to which he returns again and again in his acclaimed fiction and films—Infidels follows the life of Jallal, the son of a prostitute witch doctor—"a woman who knew men, humanity, better than anyone. In sex. Beyond sex." As a ten-year-old sidekick to his mother, Jallal spits in the face of her enemies both real and imagined.

The cast of characters that rush into their lives are unforgettable for their dreams of love and belonging that unravel in turn. Built as a series of monologues that are emotionally relentless—a mix of confession, heart's murmuring, and shouting match—the book follows Jallal out of boyhood on the path to Jihad. It's a path that surprises even him.
About the Author
---
In 1973, ABDELLAH TAÏA was born in the public library of Rabat in Morocco, where his father was the janitor and where his family lived until he was two years old. Acclaimed as both a novelist and filmmaker, he writes in French and has published eight books now widely translated, including Le jour de roi, which was awarded the prestigious French Prix de Flore in 2010. An adaptation of his novel L'Armée du salut was his first feature film, released in 2014, screened at major festivals around the world, and hailed by the New York Times as giving "the Arab world its first on-screen gay protagonist." Taïa made history in 2006 by coming out in his country, where homosexuality is illegal. His commitment to the defense of homosexuals in Muslim countries has made him one of the most prominent Arab writers of his generation—both "a literary transgressor and cultural paragon," according to Interview magazine. He has lived in Paris since 1998.
Praise For…
---
"Taïa sharply etches the anguish and ecstasy of his characters. He is adept at depicting love for others as well as love for God, alongside humanity's capacity for great cruelty. This is an undeniably powerful work." -Publishers Weekly

"These linked stories combine a lightness of touch, a deep lyricism, an openness to beauty and mystery, with an undercurrent of daring, fierce, erotic energy and images of shocking brutality and challenging complexity. Infidels manages to create a picture of an entire world as well as tender portraits of the individuals whose lives are so memorably dramatized here." —Colm Tóibín  

"Abdellah Taïa is one of the most original and necessary voices in world literature. He writes about Morocco and Arab culture with both intimacy and the sharp perspective of someone rejected by his home. Infidels is among his best novels and depicts a powerful story of mother and son, both at odds with convention. With each novel Taïa grows as an artist and expands our knowledge of what it means to be an outsider inside the Muslim world." —David Ebershoff, author of The Danish Girl and The 19th Wife

"This novel by a Moroccan writer resident in France recounts the brutal life of a young gay Muslim who becomes a jihadi. Brought up by a prostitute in a conservative milieu in Morocco, the boy takes up with an older, European-born Islamic militant and moves to Belgium. Against the charged backdrop of debates about homosexuality's place in Islam and Islam's place in the West, the novel's chief success is its dramatization of the hypocrisies of the pious. Addressing his mother, Taïa's protagonist prophesies, "Maman, one day you'll be stoned to death by the very same people who creep to the house each night to ask for your forgiveness and a bit of pleasure." -The New Yorker