The Natural Way of Things (Paperback)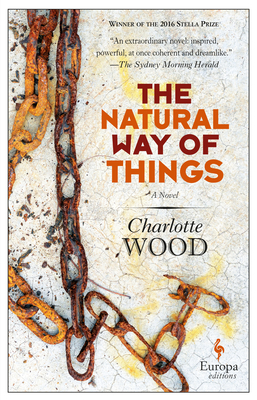 List Price: $17.00
Our Price: $9.00
(Save: $8.00 47%)
On Our Shelves Now. Click on the title to see details.
Description
---
"A Handmaid's Tale for the 21st century" (Prism Magazine), Wood's dystopian tale about a group of young women held prisoner in the Australian desert is a prescient feminist fable for our times. As the Guardian writes, "contemporary feminism may have found its masterpiece of horror."

Drugged, dressed in old-fashioned rags, and fiending for a cigarette, Yolanda wakes up in a barren room. Verla, a young woman who seems vaguely familiar, sits nearby. Down a hallway echoing loudly with the voices of mysterious men, in a stark compound deep in the Australian outback, other captive women are just coming to. Starved, sedated, the girls can't be sure of anything—except the painful episodes in their pasts that link them.

Drawing strength from the animal instincts they're forced to rely on, the women go from hunted to hunters, along the way becoming unforgettable and boldly original literary heroines that readers will both relate to and root for.

The Natural Way of Things is a lucid and illusory fable and a brilliantly plotted novel of ideas that reminds us of mankind's own vast contradictions—the capacity for savagery, selfishness, resilience, and redemption all contained by a single, vulnerable body. 

Winner
2016 Stella Prize
2016 Prime Minister's Literary Award in Fiction

An Australian Indie Best Fiction Book & Overall Book of the Year Winner

Finalist
2017 International Dublin Literary Award
2016 Voss Literary Prize
2016 Victorian Premier's Award
2016 The Miles Franklin Award
About the Author
---
Charlotte Wood is the author of five novels and one book of non-fiction. She has been described as one of Australia's "most original and provocative writers." Her novels have been shortlisted for many prizes, including the Christina Stead Prize for Fiction, the Miles Franklin Literary Award, and the regional Commonwealth Writers' Prize.
Praise For…
---
Praise for The Natural Way of Things

"Beautiful and savage – think Atwood in the outback."
—Paula Hawkins, author of The Girl on the Train

"[Wood's] short, gripping book begins as an allegory of thuggish misogyny then evolves into a far stranger and more challenging feminist parable."
—John Powers, Fresh Air

"...one of those unforgettable reading experiences."
—Liane Moriarty, author of Truly Madly Guilty, in The New York Times 

"Like the surreal prison itself, Ms. Wood's writing is direct and spare, yet capable of bursting with unexpected beauty."
—The Economist

"It is, unfortunately, never a bad time to discuss the persistence of violence committed against women, and the perceived ownership of women's bodies. Wood comes at the issue with a fresh, thrilling perspective: that of a dystopian novelist, one who constructs worlds in dire disrepair, but woefully similar to our own."
—Huffington Post

"The Natural Way of Things is a prescient feminist horror novel you need to read."
—Jezebel 

"While there are definite hints of Atwood there, The Natural Way of Things is definitely its own animal."
—BookRiot

"An absorbing plot, lyrical prose, and discomfiting imagery makes Wood's novel decidedly gripping."
—Kirkus Reviews

"VERDICT: A shocking and vital work for all readers."
—Library Journal (starred review)

"Uncomfortably bold, The Natural Way of Things is an everywoman's hero tale."
—Shelf Awareness (starred review)

"What sets Wood's The Natural Way of Things apart, what makes it a truly urgent read is that it is not an allegory and it is not a dystopian novel: it is a reality."
—Full Stop

"The Natural Way of Things is an extraordinary novel: inspired, powerful, at once coherent and dreamlike."
—The Sydney Morning Herald

"It's rare to pick up a novel and from the opening pages be not only gripped by the story on the page but also by the keenness of the intelligence and audacity of the immagination at work."
—The Weekend Australian

"A modern-day fable of rural gothic dystopia. Think Margaret Atwood, Angela Carter and chuck in a dose of Mad Max's avenging angel Furiosa and you get the idea."
—Caroline Baum, Anne Summers Reports

"As allegory, as a novel, as vision and as art The Natural Way of Things is stunning."
—Christos Tsiolkas, author of The Slap

"This is a stunning exploration of ambiguities—of power, of morality, of judgment. With a fearless clarity, Wood's elegantly spare and brutal prose dissects humanity, hatreds, our ambivalent capacities for friendship and betrayal, and the powerful appearance—always—of moments of grace and great beauty...It will not leave you easily; it took my breath away."
—Ashley Hay, author of The Railwayman's Life 

"A brave, brilliant book. I would defy anyone to read it and not come out a changed person."
—Malcolm Knox, author of The Wonder Lover

Coverage from NPR