The Hottest Dishes of the Tartar Cuisine (Paperback)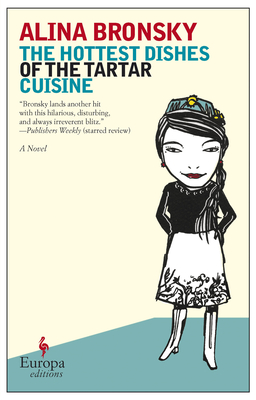 $15.00

NOT on our shelves - Usually Ships in 1-5 Days
Description
---
Publishers Weekly Best Book of the Year 
Finalist for the German Book Award 
Favorite Read of the Year in the Huffington Post and the Wall Street Journal

In her second novel, Russian-born Alina Bronsky gives readers a moving portrait of the devious limits of the will to survive. The narrator of this rollicking family saga is the outrageously mischevious Rosa Achmetowna, whom The Millions calls "one of the most fascinating women in the world."

When she discovers that her seventeen-year-old daughter, "stupid Sulfia," is pregnant by an unknown man she does everything to thwart the pregnancy, employing a variety of folkloric home remedies. But despite her best efforts the baby, Aminat, is born nine months later at Soviet Birthing Center Number 134. Much to Rosa's surprise and delight, dark eyed Aminat is a Tartar through and through and instantly becomes the apple of her grandmother's eye. While her good for nothing husband Kalganow spends his days feeding pigeons and contemplating death at the city park, Rosa wages an epic struggle to wrestle Aminat away from Sulfia, whom she considers a woefully inept mother. When Aminat, now a wild and willful teenager, catches the eye of a sleazy German cookbook writer researching Tartar cuisine, Rosa is quick to broker a deal that will guarantee all three women a passage out of the Soviet Union. But as soon as they are settled in the West, the uproariously dysfunctional ties that bind mother, daughter and grandmother begin to fray.

Told with sly humor and an anthropologist's eye for detail, The Hottest Dishes of the Tartar Cuisine is the story of three unforgettable women whose destinies are tangled up in a family dynamic that is at turns hilarious and tragic.
About the Author
---
Alina Bronsky's first novel, Broken Glass Park, was a finalist for one of Europe's most celebrated literary awards, the Ingeborg Bachmann Prize. It was hailed by Publishers Weekly as a "riveting debut," while the Boston Globe described it as "a vivid depiciton of contemporary adolescence under pressure." The Hottest Dishes of the Tartar Cuisine, nominated for the prestigious German Book Prize, is her second novel. She lives in Germany.

Tim Mohr is a former Berlin club DJ whose previous translations include Broken Glass Park, Charlotte Roche's Wetlands, and Dorothea Dieckmann's Guantanamo, for which he won the Three Percent award for best translation of 2007. He collaborated with Duff McKagan on It's So Easy (and other lies), McKagan's forthcoming memoir.
Praise For…
---
Praise for The Hottest Dishes of the Tartar Cuisine

"Bronsky's great gift is humor."
—The Los Angeles Times

"Mordantly funny."
—The San Francisco Chronicle

"A masterful study in delusion."
—The Financial Times

"A very funny and a very dark black comedy."
—Library Journal (starred review)

"[Rosa is] one of the most fascinating women in the world."
—The Millions

"What begins as a cruel comic romp ends as a surprisingly winning story of hardship and resilience."
—The New Yorker

"Bronsky lands another hit with this hilarious, disturbing, and always irreverent blitz."
—Publishers Weekly (starred review)

"I plan to . . . read whatever comes next from this important new literary voice."
—Ms. Magazine

"Bronsky's lean writing style . . . propels the reader from page to page."
—Shelf Awareness

"Alina Bronsky writes with a gritty authenticity and unputdownable propulsion."
—Vogue