Kissing Fidel: A Memoir of Cuban American Terrorism in the United States (The Iowa Prize in Literary Nonfiction) (Paperback)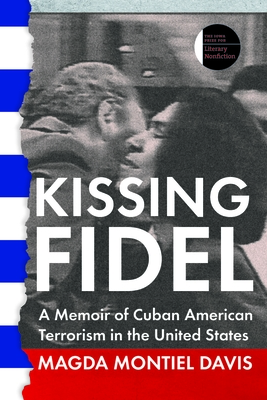 $18.00

If not in stock, we can Special Order from the publisher
Description
---
What does it mean to be instantly transformed into the most hated person in your community? After meeting Fidel Castro at a Havana reception in 1994, Cuban-born Magda Montiel Davis, founder of one of the largest immigration law firms in South Florida, soon found out. The reception—attended by hundreds of other Cuban émigrés—was videotaped for historical archives. In a seconds-long clip, Fidel pecks the traditional protocol kiss on Montiel Davis's cheek as she thanks him for the social benefits conferred upon the Cuban people. The video, however, was mysteriously sold to U.S. reporters and aired incessantly throughout South Florida. Soon the encounter was an international cause célèbre.
Life as she knew it was over for Montiel Davis and her family, including a father who worked with the CIA to topple Fidel, a nohablo-inglés mother who lived with the family, her five children, and her Jewish Brooklyn-born attorney husband. Kissing Fidel shares the sometimes dismal, sometimes comical realities of an ordinary citizen being thrown into a world of death threats, mob attacks, and terrorism.
About the Author
---
Magda Montiel Davis is a former Democratic candidate for U.S. Congress, an immigration lawyer, and the first recipient of the American Immigration Lawyers Association's national Pro Bono Award. She lives in Key Biscayne, Florida.
Praise For…
---
"
Kissing Fidel
 is most generous in how it treats the layered nuances of history; not just as fact, but as something that impacts the body, the landscape, the maze of the mind. I love how this work intersects, how it asks questions of both reader and self, with the understanding that there is no one clear answer. This is a rich and resonant text."—Hanif Abdurraqib, judge, Iowa Prize for Literary Nonfiction
"A powerful, terrifying vision of a dark political landscape unfamiliar to most Americans. After reading Kissing Fidel, I will never see Miami, or this country, quite the same way again."—Kerry Howley, author, Thrown
"In April 1994, Magda Montiel Davis was thrust into a maelstrom of injustice, violence, and bigotry. In this book she writes eloquently of the power drawn from her personal convictions, her family, and the colleagues who stood by her."—Jean-Bertrand Aristide, former President of Haiti