Inside a Pearl: My Years in Paris (Hardcover)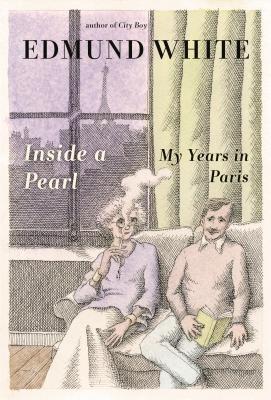 $26.00

If not in stock, we can Special Order from the publisher
Description
---
When Edmund White moved to Paris in 1983, leaving New York City in the midst of the AIDS crisis, he was forty-three years old, couldn't speak French, and only knew two people in the entire city. But in middle age, he discovered the new anxieties and pleasures of mastering a new culture. When he left fifteen years later to take a teaching position in the U.S., he was fluent enough to broadcast on French radio and TV, and in his work as a journalist, he'd made the acquaintance of everyone from Yves Saint Laurent to Catherine Deneuve to Michel Foucault. He'd also developed a close friendship with an older woman, Marie-Claude, through which he'd come to understand French life and culture in a deeper way.
The book's title evokes the Parisian landscape in the eternal mists and the half-light, the serenity of the city compared to the New York White had known (and vividly recalled in City Boy). White fell headily in love with the city and its culture: both intoxicated and intellectually stimulated. He became the definitive biographer of Jean Genet; he wrote lives of Marcel Proust and Arthur Rimbaud; and he became a recipient of the French Order of Arts and Letters. Inside a Pearl recalls those fertile years for White. It's a memoir which gossips and ruminates, and offers a brilliant examination of a city and a culture eternally imbued with an aura of enchantment.
About the Author
---
Edmund White (b. Ohio, USA, 1940) is the author of many critically acclaimed books, the most recent being The Flaneur. He was made an officer in the French Ordre des Arts et des Lettres and won a literary prize from the Festival of Deauville. He now teaches at Princeton University. His acclaimed autobiography, My Lives, was published by Bloomsbury in 2006, while his play, Terre Haute, was published by Methuen Drama in 2007.
Praise For…
---
"Edmund White might be a rare person of letters in an old-fashioned sense." —Rachel Kushner, author of The Flamethrowers
"[White is] one of the most prominent gay writers in the United States, a position he occupies gleefully . . . Yet White is wonderfully tender about his lovers, whom he treats with uniform respect, even melancholy. Indeed a sadness infuses his story . . .This narrative unfolds, for all its frenetic pleasure-seeking, in the shadow of AIDS . . . [A] beautifully written memoir. . . 'Inside a Pearl' refers not only to Paris, with its mists and mysteries. This pearl is somehow a kind of snow globe as well, a transparent sphere that encloses a miniature world. White shakes this luminous object. Snow shimmers everywhere. And then the snow settles." —Jay Parini, New York Times Book Review
"White proves once again, like a scopophiliac in a hall of mirrors, that he is the unrivaled master of nailing down a time, a place, a mood, and its walking, talking, erring, outrageous denizens… White's grand banquet comes with a delicious roster of cameos—Michel Foucault, Ned Rorem, Milan Kundera, Mary McCarthy, Lauren Bacall, Julian Barnes, Nigella Lawson, Dominique Nabokov, Alain Robbe-Grillet, Azzedine Alaia, Paloma Piccaso…But Inside a Pearl is also a dedication to the lovers and companions and night-time cruisers who get equal footing in the sweeping, Bank-to-Bank narrative…Early along the way, White tests positive for AIDS, and a trace of flinching mortality underlies the extravagance and dizzying spree that makes Inside a Pearl such an exhilarating ride. White has set to page the ins and outs of Paris before—particularly in his literary walking guide, The Flaneur, in 2001. But he's never written about the city with such an expert mix of anthropology and vulnerability." —Interview
"What is fascinating about Inside a Pearl [is] its game effort at self-examination and its commitment to warts-and-all sharing about sexual aging, social arrivism, and the brutal sadness caused by AIDS…His portrait of Marie-Claude de Brunhoff…is one of the most affecting depictions of the contours of friendship between a gay man and a straight woman in recent literarature." —Bookforum
"The memories of high-profile artists, fashion designers, actors and socialites are loose-lipped, uproarious tales of the louche and famous." —The New York Times Style Magazine
"A gossipy and enlightening account of living as a gay man among the French intelligentsia . . .White's skillful writing rescues the book from being just another account of an American in Paris." —Library Journal
"White is an acclaimed novelist, essayist, biographer of Genet and Proust, and a self-described 'archaeologist of gossip.' . . . [He] is renowned for the purity of his style and for his frank depictions of sex, and he is in peak form here." —Booklist
"A memoir that engages on a number of levels, as a pivotal literary figure recounts his productive Parisian years." —Kirkus Reviews
"Provide[s] insightful glimpses of Paris in the late 20th century." —Publishers Weekly