The Venusian Gambit: Book Three of the Daedalus Series (Mass Market)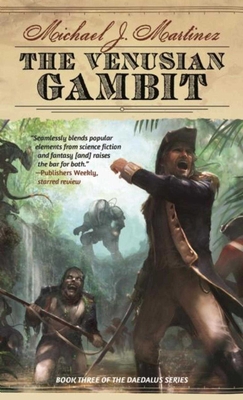 $7.99

If not in stock, we can Special Order from the publisher
Other Books in Series
This is book number 3 in the Daedalus Series series.
Description
---
In the year 2135, dangerous alien life-forms freed in the destruction of Saturn's moon Enceladus are making their way toward Earth. A task force spearheaded by Lieutenant Commander Shaila Jain is scrambling to beat them there while simultaneously trying to save crewmember Stephane Durand, who was infected during the mission to Saturn and is now controlled by a form of life intent on reopening a transdimensional rift and destroying the human race. But Jain doesn't realize that the possessed Stephane has bigger plans: beaming critical data to other conspirators suspiciously heading not for Earth, but for Venus . . .

In 1809—a Napoleonic era far different from our own—the French have occupied England with their Corps Eternélle, undead soldiers risen through the darkest Alchemy. Only the actions of Lord Admiral Thomas Weatherby and the Royal Navy have kept the French contained to Earth. But the machinations of old enemies point to a bold and daring gambit: an ancient weapon presumed lost in the jungles of Venus.

Now Weatherby must choose whether to stay and fight to retake his homeland, or pursue the French to the green planet. And Shaila must decide if it's possible to save the man she loves, or if he must be sacrificed for the good of two dimensions. In the dark alien jungles of Venus, humanity's fate in both dimensions hangs in the balance—forcing past and present to once again join forces against an ancient terror.

Skyhorse Publishing, under our Night Shade and Talos imprints, is proud to publish a broad range of titles for readers interested in science fiction (space opera, time travel, hard SF, alien invasion, near-future dystopia), fantasy (grimdark, sword and sorcery, contemporary urban fantasy, steampunk, alternative history), and horror (zombies, vampires, and the occult and supernatural), and much more. While not every title we publish becomes a New York Times bestseller, a national bestseller, or a Hugo or Nebula award-winner, we are committed to publishing quality books from a diverse group of authors.
About the Author
---
Michael J. Martinez is the author of The Daedalus Incident, the first installment in the Daedalus trilogy. A journalist and professional writer by trade, Martinez lives with his wife and daughter in northern New Jersey.
Praise For…
---
"[Martinez] skillfully handles the intricacies of characterization and the many moving parts, building to the trilogy's utterly satisfying and quite epic finale."
—Publishers Weekly, starred review

Praise for Michael J. Martinez

"A true genre bender. It mixes alchemy, quantum physics, and historical figures in ways you haven't seen before. . . . adventurous, original, and a blast to read."
—Tor.com on The Daedalus Incident

"Genre bending often come at great peril, but Martinez pulls it off with an assurance that makes all the pieces slot together perfectly."
—Buzzfeed.com, "The 14 Greatest Science Fiction Books of the Year" (2013) on The Daedalus Incident

"Martinez's debut is a triumph of genre-blending... With a cast of superbly drawn characters, Martinez's title is a mesmerizing tale of two universes that briefly cross paths, leaving both worlds forever changed."
—Library Journal (starred review, SF/F Debut of the Month), included in Best Books 2013: SF/Fantasy end-of-year wrap-up on The Daedalus Incident

"A follow up that manages to improve on the first in significant ways."
—SF Signal on The Enceladus Crisis

"Martinez set a high bar for himself in his debut novel; could his sophomore effort live up to the expectations it established? It has and then some. His characters and their relationships are even more fully flushed out, his dialogue, description of action (I love the first battle scene) and overall handling of the narrative is, if anything, tighter and better."
—Joe's Geek Fest on The Enceladus Crisis

"This is a smart, well-written and outstanding series; no sophomore slump here, Book Two is even more exciting than the first one."
—The Qwillery on The Enceladus Crisis

"[Martinez] skillfully handles the intricacies of characterization and the many moving parts, building to the trilogy's utterly satisfying and quite epic finale."
—Publishers Weekly, starred review

Praise for Michael J. Martinez

"A true genre bender. It mixes alchemy, quantum physics, and historical figures in ways you haven't seen before. . . . adventurous, original, and a blast to read."
—Tor.com on The Daedalus Incident

"Genre bending often come at great peril, but Martinez pulls it off with an assurance that makes all the pieces slot together perfectly."
—Buzzfeed.com, "The 14 Greatest Science Fiction Books of the Year" (2013) on The Daedalus Incident

"Martinez's debut is a triumph of genre-blending... With a cast of superbly drawn characters, Martinez's title is a mesmerizing tale of two universes that briefly cross paths, leaving both worlds forever changed."
—Library Journal (starred review, SF/F Debut of the Month), included in Best Books 2013: SF/Fantasy end-of-year wrap-up on The Daedalus Incident

"A follow up that manages to improve on the first in significant ways."
—SF Signal on The Enceladus Crisis

"Martinez set a high bar for himself in his debut novel; could his sophomore effort live up to the expectations it established? It has and then some. His characters and their relationships are even more fully flushed out, his dialogue, description of action (I love the first battle scene) and overall handling of the narrative is, if anything, tighter and better."
—Joe's Geek Fest on The Enceladus Crisis

"This is a smart, well-written and outstanding series; no sophomore slump here, Book Two is even more exciting than the first one."
—The Qwillery on The Enceladus Crisis