The Daedalus Incident: Book One of the Daedalus Series (Mass Market)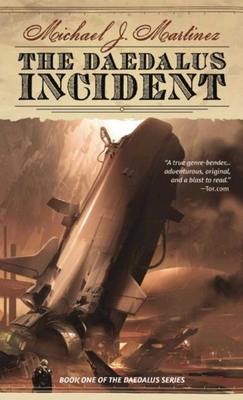 $7.99

If not in stock, we can Special Order from the publisher
Other Books in Series
This is book number 1 in the Daedalus Series series.
Description
---
Bizarre earthquakes are rumbling over the long-dormant tectonic plates of the planet, disrupting its trillion-dollar mining operations and driving scientists past the edges of theory and reason. However, when rocks shake off their ancient dust and begin to roll—seemingly of their own volition—carving canals as they converge to form a towering structure amid the ruddy terrain, Lt. Jain and her JSC team realize that their routine geological survey of a Martian cave system is anything but. The only clues they have stem from the emissions of a mysterious blue radiation, and a 300-year-old journal that is writing itself.

Lt. Thomas Weatherby of His Majesty's Royal Navy is an honest 18th-century man of modest beginnings, doing his part for King and Country aboard the HMS Daedalus, a frigate sailing the high seas between continents . . . and the immense Void between the Known Worlds. Across the Solar System and among its colonies—rife with plunder and alien slave trade—through dire battles fraught with strange alchemy, nothing much can shake his resolve. But events are transpiring to change all that.

With the aid of his fierce captain, a drug-addled alchemist, and a servant girl with a remarkable past, Weatherby must track a great and powerful mystic, who has embarked upon a sinister quest to upset the balance of the planets—the consequences of which may reach far beyond the Solar System, threatening the very fabric of space itself.

Set sail among the stars with this uncanny tale, where adventure awaits, and dimensions collide!

Skyhorse Publishing, under our Night Shade and Talos imprints, is proud to publish a broad range of titles for readers interested in science fiction (space opera, time travel, hard SF, alien invasion, near-future dystopia), fantasy (grimdark, sword and sorcery, contemporary urban fantasy, steampunk, alternative history), and horror (zombies, vampires, and the occult and supernatural), and much more. While not every title we publish becomes a New York Times bestseller, a national bestseller, or a Hugo or Nebula award-winner, we are committed to publishing quality books from a diverse group of authors.
About the Author
---
Michael J. Martinez is the author of The Daedalus Incident, the first installment in the Daedalus trilogy. A journalist and professional writer by trade, Martinez lives with his wife and daughter in northern New Jersey.
Praise For…
---
"Genre bending often come at great peril, but Martinez pulls it off with an assurance that makes all the pieces slot together perfectly."
—Buzzfeed.com, "The 14 Greatest Science Fiction Books of the Year" (2013)

"Martinez's debut is a triumph of genre-blending.... With a cast of superbly drawn characters, Martinez's title is a mesmerizing tale of two universes that briefly cross paths, leaving both worlds forever changed."
—Library Journal (starred review, SF/F Debut of the Month), included in Best Books 2013: SF/Fantasy end-of-year wrap-up

"...an ambitious and fun romp...entertaining and fun to read and despite its delays in publication, I hope it reaches its deserved audience, and that the author has the opportunity to explore the universe of the Daedalus, especially, much further."
—SFSignal

"A true genre bender. It mixes alchemy, quantum physics, and historical figures in ways you haven't seen before. [...] adventurous, original, and a blast to read."
—Tor.com

"On a five star scale, gets six. [...] One of the most enjoyable reads I've had all year."
—GeekDad

"Genre bending often come at great peril, but Martinez pulls it off with an assurance that makes all the pieces slot together perfectly."
—Buzzfeed.com, "The 14 Greatest Science Fiction Books of the Year" (2013)

"Martinez's debut is a triumph of genre-blending.... With a cast of superbly drawn characters, Martinez's title is a mesmerizing tale of two universes that briefly cross paths, leaving both worlds forever changed."
—Library Journal (starred review, SF/F Debut of the Month), included in Best Books 2013: SF/Fantasy end-of-year wrap-up

"...an ambitious and fun romp...entertaining and fun to read and despite its delays in publication, I hope it reaches its deserved audience, and that the author has the opportunity to explore the universe of the Daedalus, especially, much further."
—SFSignal

"A true genre bender. It mixes alchemy, quantum physics, and historical figures in ways you haven't seen before. [...] adventurous, original, and a blast to read."
—Tor.com

"On a five star scale, gets six. [...] One of the most enjoyable reads I've had all year."
—GeekDad