Washington D.C. (National Geographic Destination City Map) (Folded)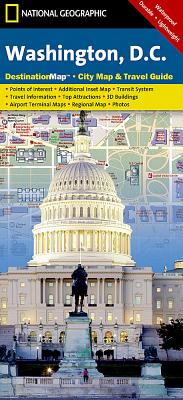 $7.95

On Our Shelves Now. Click on the title to see details.
Description
---
- Waterproof - Tear-Resistant - Travel Map
The national's capital and home to many of the country's most treasured monuments and museums, Washington D. C. is a popular destination for business and leisure travelers. National Geographic's City Destination map of Washington D. C. is a comprehensive guide to the city, combining an easy-to-read road map with an informative and well researched travel guide. The map covers the city from Georgetown, through the White House, National Mall and Capitol, to the Washington Navy Yard, along with parts of Northern Virginia, the Potomac River and its many bridges.
Pinpointed on the map are hundreds of points of interest, including monuments, hotels, places of worship, parks, police stations, hospitals, notable buildings and metro stations. Many of the city's most popular attractions are depicted in 3D, including the Lincoln Memorial, Washington Monument and White House. An inset map outlines the neighboring area of Old Town Alexandria. A comprehensive metro map along with diagrams of Dulles and Reagan National Airports are shown along with background information of the transit system. To assist in your navigation of the area, a user friendly index of streets, government buildings, monuments, museums, parks, hotels and metro stations is also provided.
Every Destination Map is printed on durable synthetic paper, making them waterproof, tear-resistant and tough -- capable of withstanding the rigors of any kind of travel.
Map Scale = 1:11,300Sheet Size = 24.75 x 17.75Folded Size = 4 x 8.75