Field Notes from a Catastrophe: Man, Nature, and Climate Change (Hardcover)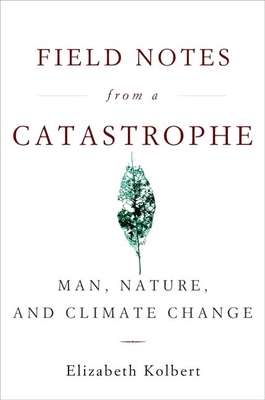 Description
---
An argument for the urgent danger of global warming in a book that is sure to be as influential as Rachel Carson's Silent Spring.
Known for her insightful and thought-provoking journalism,
New Yorker
writer Elizabeth Kolbert now tackles the controversial subject of global warming. Americans have been warned since the late nineteen-seventies that the buildup of carbon dioxide in our atmosphere threatens to melt the polar ice sheets and irreversibly change our climate. With little done since then to alter this dangerous course, now is the moment to salvage our future. By the end of the century, the world will likely be hotter than it's been in the last two million years, and the sweeping consequences of this change will determine the future of life on earth for generations to come. In writing that is both clear and unbiased, Kolbert approaches this monumental problem from every angle. She travels to the Arctic, interviews researchers and environmentalists, explains the science and the studies, draws frightening parallels to lost ancient civilizations, unpacks the politics, and presents the personal tales of those who are being affected most--the people who make their homes near the poles and, in an eerie foreshadowing, are watching their worlds disappear. Growing out of a groundbreaking three-part series for the
New Yorker
,
Field Notes from a Catastrophe
brings the environment into the consciousness of the American people and asks what, if anything, can be done, and how we can save our planet.
About the Author
---
Elizabeth Kolbert was a reporter for the New York Times for fourteen years before becoming a staff writer covering politics for the New Yorker. She and her husband, John Kleiner, have three sons. They live in Williamstown, MA.
Praise For…
---
"Important...Precise and measured...lets readers connect the dots to form a frightening (and still avoidable) vision of our future...[Grade:] A."-Entertainment Weekly

"A small miracle of concision...offer(s) the clearest view yet of the biggest catastrophe we have ever faced."-Los Angeles Times

"Sober, detailed, and alarming without being alarmist."-Newsweek

"Elegant and concise...If you have time this year for just one book on science, nature or the environment, this should be it."-San Diego Union-Tribune

"Gripping, well-written...Kolbert never editorializes, but her message comes through all the louder for her restraint" -Seattle Times

"Deliver[s] an exceptionally clear picture of how global warming is already on us and what disasters lie in wait should we fail to act."-Salon.com

"The brilliance of Field Notes flows from Kolbert's gift for making the violence of climate change feel vast yet intimate..."-Slate.com

"Compelling as it is enlightening"--Portland Oregonian

"Passionate...well-researched."-New York Times Book Review

"An elegant ride through the confusing world of climate science."-Outside Magazine