The Fangirl's Guide to the Galaxy: A Handbook for Girl Geeks (Hardcover)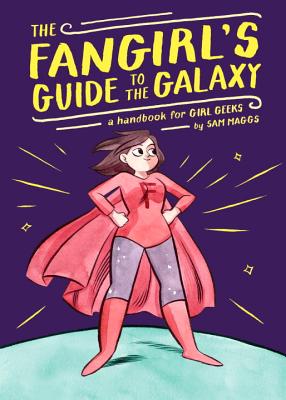 List Price: $15.95
Our Price: $6.98
(Save: $8.97 56%)
Description
---
This ultimate handbook for ladies living the nerdy life is a fun and feminist take on the often male-dominated world of geekdom.
 
Fandom, feminism, cosplay, cons, books, memes, podcasts, vlogs, OTPs and RPGs and MMOs and more—it's never been a better time to be a girl geek. With delightful illustrations and an unabashed love for all the in(ternet)s and outs of geek culture, this book is packed with tips, playthroughs, and cheat codes, including:
 
• How to make nerdy friends
• How to rock awesome cosplay
• How to write fanfic with feels
• How to defeat internet trolls
• How to attend your first con

And more! Plus insightful interviews with fangirl faves, like Jane Espenson, Erin Morgenstern, Kate Beaton, Ashley Eckstein, Laura Vandervoort, Beth Revis, Kate Leth, and many others.
About the Author
---
Sam Maggs is a best-selling author of books, comics, and video games. She's the author of Wonder Women, Girl Squads, The Fangirl's Guide to the Universe, and The Fangirl's Guide to Leveling Up, as well as many YA and middle-grade titles like Unstoppable Wasp: Built on Hope, Con Quest!, and Tell No Tales; a senior games writer, including work on Marvel's Spider-Man; and a comics writer for titles like Marvel Action: Captain Marvel, My Little Pony, and Transformers. She is also an on-air host for networks like Nerdist. A Canadian in Los Angeles, she misses Coffee Crisp and bagged milk. Visit her online at sammaggs.com or @SamMaggs!
Praise For…
---
"If you or someone else in your life could do with an inclusive, funny, super smart, and sweet introduction to the world of female geeks, look no further."—The Mary Sue

"Short, thorough, wide-spread, funny, and varied—I wish I'd had this handbook when I first ventured into the fanzones!"—Tamora Pierce, author of The Song of the Lioness series
 
"Everyone could use tips on how to be a better and happier geek from this book. Maggs dishes out the best advice on cosplay, gaming, fan fiction, social media and even how to battle trolls. You'll start reading as student and leave a Jedi Master. May this book be with you always."—Bonnie Burton, author of The Star Wars Craft Book and You Can Draw: Star Wars
 
"Part analysis and part celebration, this handbook thoroughly explores geekdom and the way women have made it their own. A must-have for anyone interested in fangirl culture."—Beth Revis, author of the New York Times bestselling Across the Universe series
 
"This FANtastic book embraces and encourages the growing number of women who are unleashing their glorious and gorgeous inner geeks.  It celebrates the nerdy girl in all of us. Such fun!"—Amanda Tapping, actress from Stargate SG-1 and Stargate Atlantis

"Read it cover to cover, and then make sure you share it with all the young girl geeks you know."—Brit + Co
 
"A handy handbook for being an empowering and happy girl geek."—Sweety High

"The Fangirl's Guide to the Galaxy is a great homage to anything and everything fandom, especially for those new to the genre."—Reading Eagle 

"...this book could be invaluable."—GeekMom
 
"Through and through, Maggs manages to talk about feminism, fangirling, cons, lingo, and the general idea that you should be yourself, and do that unapologetically, with a great deal of lightheartedness and fun."—The Frisky
 
"For a woman trying to find her way in fandom, I think this book would be invaluable. But that's not to say men can't get something out of it as well."—FreakSugar