Practical Wisdom: The Right Way to Do the Right Thing (Paperback)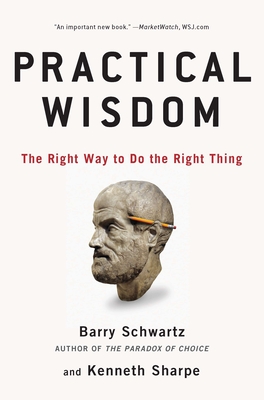 Description
---
A reasoned and urgent call to embrace and protect the essential human quality that has been drummed out of our lives: wisdom.
In their provocative new book, Barry Schwartz and Kenneth Sharpe explore the insights essential to leading satisfying lives. Encouraging individuals to focus on their own personal intelligence and integrity rather than simply navigating the rules and incentives established by others, Practical Wisdom outlines how to identify and cultivate our own innate wisdom in our daily lives.
About the Author
---
Barry Schwartz is the author of the acclaimed bestseller The Paradox of Choice. A frequent lecturer at conferences (TED, Gel, etc) around the world, he is the Dorwin Cartwright Professor of Social Theory and Social Action at Swarthmore College, specializing in Psychology and Economics.

Kenneth Sharpe is the William R. Kenan, Jr. Professor of Political Science at Swarthmore College where he teaches political philosophy, ethics, and political economy. His most recent book is Drug War Politics: The Price of Denial.
Praise For…
---
"[Schwartz and Sharpe] have valid, thoughtful points to make... The world, especially the professional and institutional world, needs far more of this, the authors say... Everyone can see the value of practical wisdom." —The New York Times

"An important new book." —The Wall Street Journal

"[An] irresistible book, one that every politician, CEO, parent, and citizen in America should read." —Chris Anderson, curator of TED conferences