The Lazarus Project (Paperback)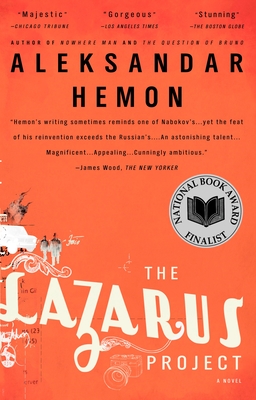 Description
---
The only novel from MacArthur Genius Award winner, Aleksandar Hemon -- the National Book Critics Circle Award winning The Lazarus Project.

On March 2, 1908, nineteen-year-old Lazarus Averbuch, an Eastern European Jewish immigrant, was shot to death on the doorstep of the Chicago chief of police and cast as a would-be anarchist assassin.

A century later, a young Eastern European writer in Chicago named Brik becomes obsessed with Lazarus's story. Brik enlists his friend Rora-a war photographer from Sarajevo-to join him in retracing Averbuch's path.

Through a history of pogroms and poverty, and a prism of a present-day landscape of cheap mafiosi and even cheaper prostitutes, the stories of Averbuch and Brik become inextricably intertwined, creating a truly original, provocative, and entertaining novel that confirms Aleksandar Hemon, often compared to Vladimir Nabokov, as one of the most dynamic and essential literary voices of our time.

From the author of The Book of My Lives.
About the Author
---
Aleksandar Hemon is the author of The Lazarus Project, Love and Obstacles, The Question of Bruno, Nowhere Man and The Book of My Lives. He has been the recipient of a Guggenheim Fellowship, a MacArthur Genius Award, the Jan Michalski Prize for Literature, the PEN/W. G. Sebald Award, and, most recently, a 2012 USA Fellowship. He lives in Chicago.
Praise For…
---
"A masterful new novel. . . Ingenious. . .Hemon is as much a writer of the senses as of the intellect."
-Washington Post Book Review

"Incandescent. When your eyes close, the power of this novel, of Hemon's colossal talent, remains."
-Junot Dfaz, author of The Brief Wondrous Life of Oscar Wao

"Hemon is immensely talented-a natural storyteller and a poet, a maker of amazing, gorgeous sentences in what is his second language."
-Los Angeles Times Book Review

"Remarkable, and remarkably entertaining." -The New York Times Book Review "A physical, historical, and pre-eminently psychological journey."
-San Francisco Chronicle

"Stunning...[a] vivid novel...wildly palpably real."
-Boston Globe

"A measured, clear spotlight of injustice, made all the more eloquent by the prickly humor of the author."
-Los Angeles Times

"Hemon's writing sometimes reminds one of Nabokov's...yet the feat of his reinvention exceeds the Russian's."
-James Wood, The New Yorker

"A profoundly moving novel...A literary page-turner that combines narrative momentum with meditations on identity and mortality."
-Kirkus Reviews.